Sài Gòn / Hồ Chí Minh City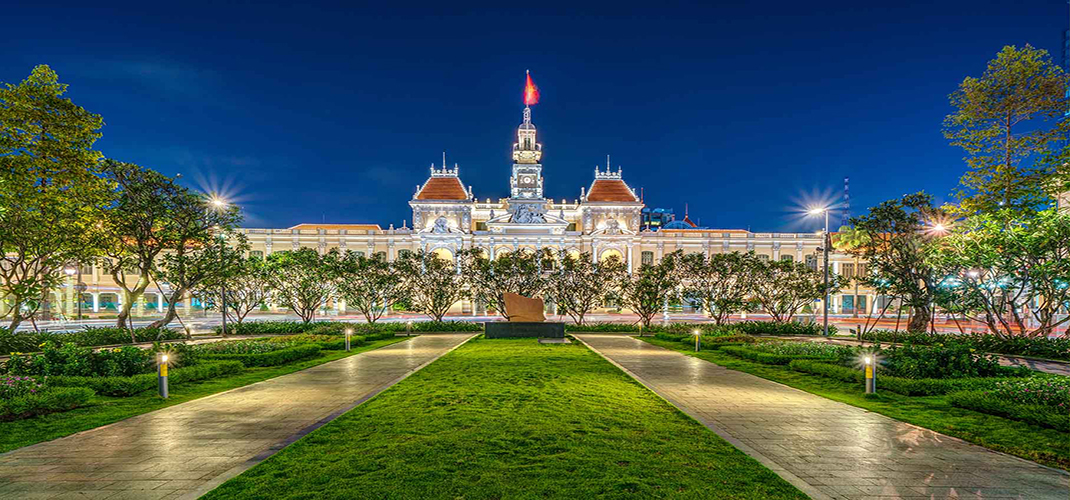 Sài Gòn or Hồ Chí Minh City both are correct, is situated in southern Vietnam. It is a sprawling, energetic metropolis of approximately 12 million people. With its bustling streets of thousands of people on motorbikes and food vendors selling their wares, Sài Gòn has a lot to offer. This vibrating city is the economic heart of the country and main hub of the southern region, mixing the old with the new. There are still visible signs and historic landmarks of French colonialism throughout the city and there are still women you are dressed in the Vietnamese traditional Áo Dài tunic walking past modern fashion boutiques.
Many of Sài Gòn's attractions centre around the war. It might sound a little sombre but there are some fascinating historical activities to visit including the War Remnants Museum which details the effects of the 30 year long war between America and Vietnam. There are immaculately preserved tanks, planes and other war machines, photographic exhibits and documentation from the war.
The Reunification Palace was the centre of the allied command and the place where the North Vietnamese claimed victory in the American War. This ageing palace has essentially been frozen in time since a North Vietnamese Army tank smashed through its gates in 1975. Visitors will get to discover secret rooms, grand reception halls and the command bunker where General Ngô Đình Diệm conducted his war strategies.
Binh Tay Market was constructed by the French in the 1880's and is located in the Chinese district of Chợ Lớn. This large wholesale trading centre also houses the Thiên Hậu Pagoda, the colourful Chaozhou Assembly Hall and the Chợ Lớn Mosque. This is a real blend of cultures all within one area.
Other sites to visit include the Cao Dai Temple, a bright and colourful temple with dragons flying up the banisters and a cloud mural decorating the ceiling. The Jade Emperor Pagoda, one of the most revered temples in Hồ Chí Minh with its intricate architecture, carvings, statues of Gods and Goddesses and Chinese characters create an exotic and timeless ambiance. The Central Post Office, designed by Gustave Eiffel is a glorious example of French colonial architecture, perfectly preserved with as much style as when it first opened in 1891. Saigon Notre Dame Cathedral, built in the late 1880s by French colonists, is one of the few remaining strongholds of Catholicism in the largely Buddhist Vietnam and take a walk down Đồng Khởi Street and you'll pass the Saigon Opera House. Sài Gòn / Hồ Chí Minh City is truly a fascinating city to visit and we have only just scraped the surface.
Check out some of our popular City Breaks!