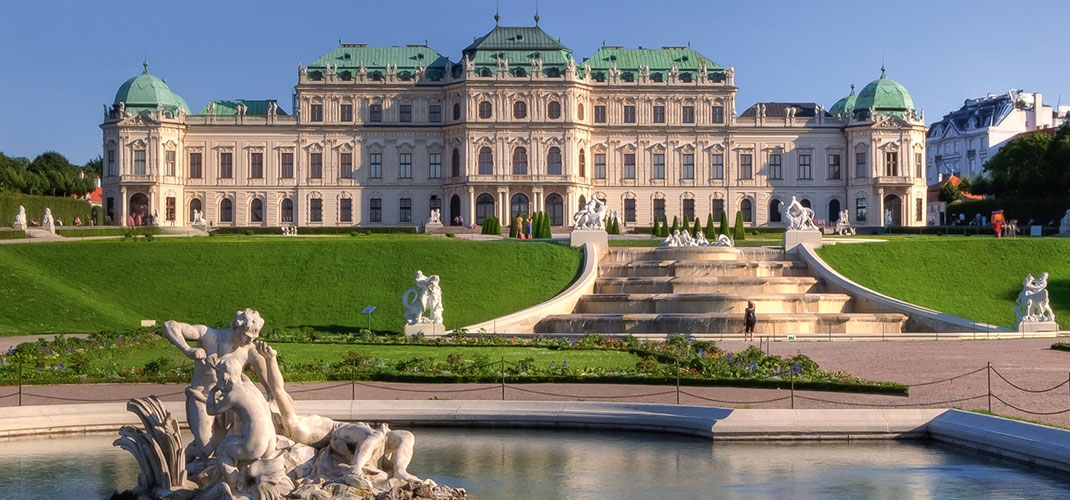 Austria is known for its natural landscape, its mountains, valleys, lakes and rivers, its stunning beauty is situated all around. The country flaunts its heritage in exuberant fashion, with Vienna's Habsburg Palaces and Salzburg's Baroque splendour.
With vibrant cities such as Vienna, Linz, Salzburg, Graz and Innsbruck and historic spa towns famous the world over like Bad Ischl or by letting your heart melt when visiting Hallstatt, there is something for everyone to explore.
Vienna, capital of Austria is home to opera, magnificent architecture and classical music as well as the UNESCO World Heritage Belvedere Palace, Schönbrunn Palace and grounds, used by Hapsburg Royalty. Vienna is also home to the world famous Vienna Spanish Riding School with the incredible white Lipizzaner horse's famous for their balletic performances to classical music and also the Gothic style St. Stephen's Cathedral with its spire and zigzag patterned roof and many historical coffee houses.
Salzburg is the home of Mozart and surrounded by a stunning mountainous landscape. It has sites like the Hohensalzburg Fortress with amazing views over Salzburg, the Mirabell Palace and Gardens a UNESCO World Heritage Site and the Leopoldskron Palace, the striking residence that has been nicknamed 'The Sound Of Music House', as it features prominently in the film.
Innsbruck is the capital of the Tyrol region, a true Alpine jewel and a renowned worldwide ski destination. The Old Town takes you to a time gone-by with Tyrolean houses and the famous Golden Roof or Goldenes Dachl. The 2,657 copper shingles, fire gilded and gold, were placed on the roof in honour of the Emperor Maximilian I's marriage to Bianca Maria Sforza. A visit to Innsbruck is one not to be missed with stunning scenery and the chance to try some of the best Tyrolian cuisine on offer.
Linz is a city in Upper Austria that not only preserves its traditions, it also enthusiastically promotes its cultural heritage across borders. The city has Baroque buildings like the Old Town Hall (Altes Rathaus) and the Old Cathedral (Alter Dom) that circles the Hauptplatz, the Old Town's Main Square. When in Linz you must try the Linzer Torte a traditional local favourite.
Austria's second largest city, Graz is one of the best preserved historical areas in Europe, filled with grand institutions and exciting new attractions including the Kunsthaus Graz, the Glokenspiel, Eggenburg Palace and Herz Jesu Kirche. A trip to the daily market in the Kaiser Josef Platz is a must experience.
The UNESCO World Heritage village of Hallstatt, located on Lake Hallstatt in Austria's mountainous Salzkammergut region is one of the most photographed areas of the country. It has the oldest salt mines in the world with 16th Century Alpine houses, alleyways with lots of cafés and shops. It is a stunning destination to visit both in summer and winter with a funicular railway, which connects to Salzwelten, an ancient salt mine with a subterranean salt lake and to the Skywalk Hallstatt viewing platform.
Set against the Katrin Mountain, Bad Ischl is a tourist favourite and considered a spa town owing to its history of involvement with salt mining and also brine pools.
If you're into the pristine pistes, world-class ski schools and optimal snow conditions there are plenty of ski regions to choose from! Some of the most regarded ski areas are Kitzbühel, Tirol, Zell am See-Kaprun, SalzburgerLand, Innsbruck, Tirol and Sölden/Ötztal, Tirol to name just a few.
Gastronomical masterpieces can be found throughout the country including Styria, Lower Austria and Burgenland but Graz is known as Austria's "Culinary Capital". Surrounded by lush farmland and a peaceful wine country, the freshest ingredients can be found at any number of local farmers markets and enjoyed throughout the city. Your foodie adventure throughout Austria would not be complete without trying the classic Wiener Schnitzel, Linzer Torte, Sacher Torte, Marillenknödel (Apricot Dumplings) and the Vorarlberg Mountain Cheese. Your palate will thank you for anyone of these delightful experiences. Guten Appetit!
Austria's diversity makes this country a must see on any European itinerary. With a passion for tradition yet close to nature, you'll be fascinated by the coincidences this nation is proud to show. Float along to Mozart melodies, marvel at the sparkling Alps and immerse yourself in a culture that will make you feel right at home.
Country Destinations
Select Countries to Visit
Filter Results
Trip Duration
Price Range
Country Destinations
Select Countries to Visit
Tour Categories
Select a Tour Category
Check out some great tours below that include