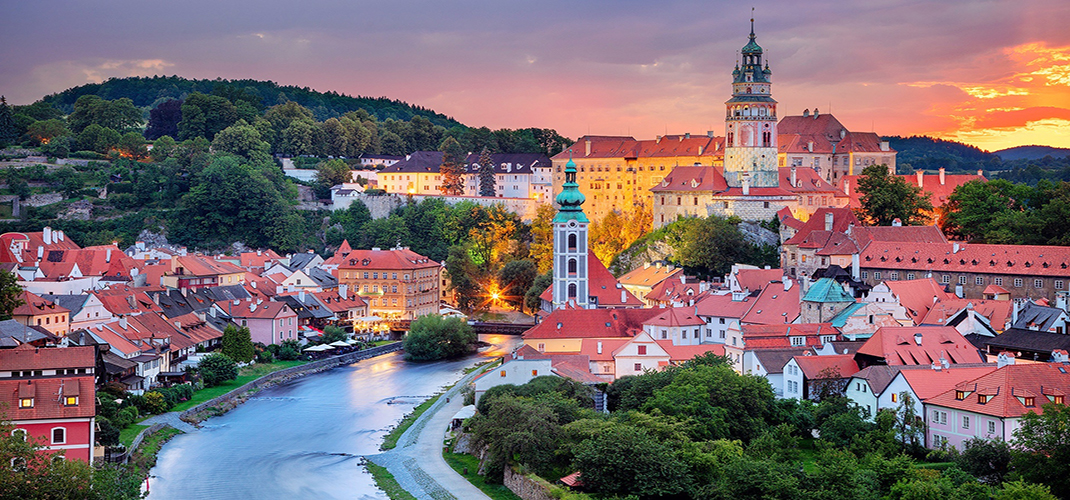 Czechia has an incredible amount of historical heritage, with some of the most interesting castles, monuments and fascinating ancient cities. Situated in the central part of Europe, it encompasses the historical provinces of Bohemia and Moravia along with the southern tip of Silesia. In 2016 the country adopted the name "Czechia" as a shortened, informal name for the Czech Republic. There is nowhere in the world where you will find as many UNESCO World Heritage Listed Sites as in Czechia. The Vltava River flows south from Prague through the town of České Budějovice, home to the Budvar brewery and the stunningly charming medieval town of Český Krumlov, with its castle and pub lined streets.
Discover the lakes, forests, fairytale châteaux of Southern Bohemia, the enchanting countryside of Central Bohemia, the land of great spas and finest beer of Western Bohemia and not to be outdone the wine, UNESCO monuments, castles, and châteaux of Moravia.
Karlštejn Castle has a large Gothic Castle founded in 1348 by Charles IV, Holy Roman Emperor elect and King of Bohemia and Kutná Hora is a city known for the Gothic St. Barbara's Church with medieval frescoes and flying buttresses.
Treat yourself to a relaxing stay in Karlovy Vary (Carlsbad) a spa town with numerous thermal springs that have made it a popular resort since the 19th Century. The riverside spa district is home to several colonnades with columned walkways. But don't forget the monasteries, mountains and national parks.
The Czech gastronomy has many influences from the traditional dishes like goulash, sirloin with dumplings to fried cheese. They also have some amazing sweets to tempt your tastebuds.
The Czech's have been brewing beer since the 10th Century and as a country has one of the highest consumptions per capita in the world. A few to try on your next visit would be Pilsner Urquell the world's first pale lager, which gets its name for the town of Pilsen, Kozel (meaning "male goat") has been around since 1874 and then there are also Matuska a younger beer with a serious following and Svijany often overlooked by visitors due to the bigger more popular brands.
In short, this small country in the heart of Europe has a copious amount of wealth, natural and cultural treasures within its reach. Why not stay and explore all the hidden gems and say "Hello" to Czechia and everything it has to offer.
Check out some of our popular City Breaks!