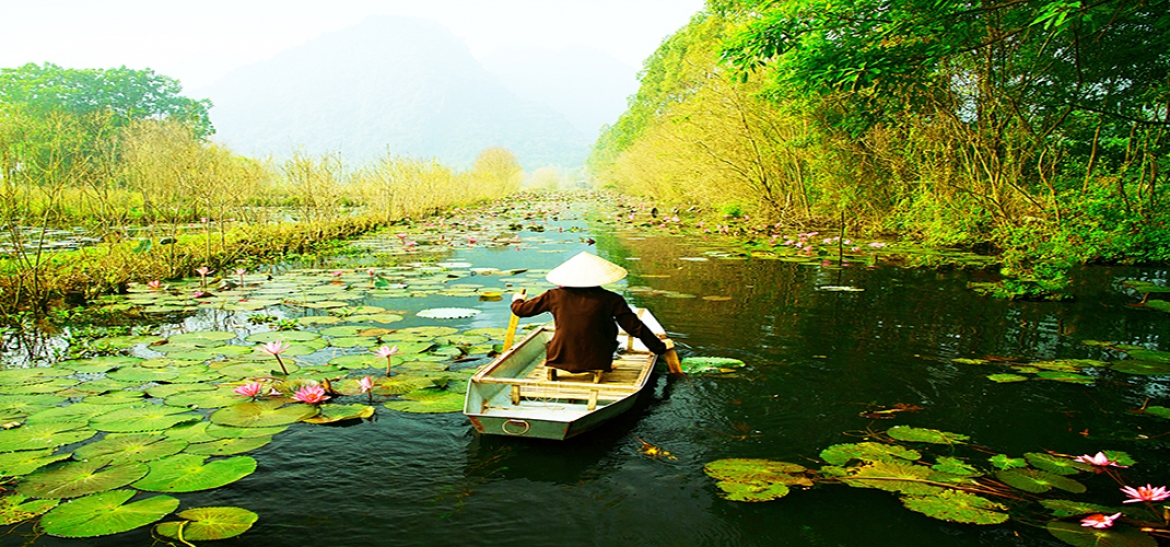 This long, skinny country curled around the East Sea, Vietnam has 3,450 kms of coastline and a central spine of mountains, including the highest peak in mainland Southeast Asia, Mount Fansipan. Vietnam's shape is often compared to as two rice baskets on a shoulder pole. Vietnam is one of the best places in Southeast Asia to witness the convergence of the old and new. It is a youthful nation with a desire for modernism but is very protective of its traditional past. The tropical climate of Vietnam has an average annual temperatures ranging between 22˚C – 30˚C. There are two distinct seasons; wet and dry!
The capital Hà Nội is a rapidly developing city; however it has retained many of its cultural traditions. This city has a vibrant "street culture" where daily activities, such as hair cutting and eating at food stalls, take place on cramped sidewalks. Only a 3.5 hour drive from Hà Nội is the UNESCO World Heritage Site of Hạ Long Bay. It is a nature lovers dream with spectacular scenery, limestone karsts, deserted beaches, amazing caves and hidden lagoons.
Two hours from Hà Nội, Ninh Binh offers a world of cultural heritage and is often referred to as the "Hạ Long Bay on land" due to its natural beauty. Take the opportunity of being rowed on a sampan to Tam Cốc along a peaceful stream while having time to admire views of majestic limestone cliffs, mysterious caves and lush rice paddies. Nearby Hoa Lư was the former capital of Vietnam over a thousand years ago.
The Central Coast of Vietnam is where you will find the UNESCO World Heritage Site of Hội An. This riverside town has a remarkable Ancient Quarter and has been beautifully preserved, with streets that are lined with old tile roofed shop houses, shady pagodas and colourful communal halls. This is the place to get those outfits made all within 24 hours. Huế was once the imperial ruler of Vietnam and this central city still bears the marks of its royal past. While imperial rule ended more than six decades ago, the central city of Hue still bears the marks of its royal past. Visitors may explore the red lacquered pavilions of the Citadel, wander through ancient garden houses, or feast on delicacies once served in the royal palaces.
Đà Lạt is situated in Vietnam's picturesque Central Highlands; this is a former French hill station boasting cool mountain air, some of the best preserved French colonial architecture in Indochina, and stunning natural beauty. Nha Trang is a sun washed town with a seven km long stretch of golden sand, making this the perfect place to get a dose of sun, surf and fresh seafood. Clear blue seas dot the offshore islands with excellent prospects for diving, fishing and snorkelling.
Hồ Chí Minh City or Sài Gòn, in southern Vietnam, is a sprawling metropolis of approximately 12 million people and Vietnam's commercial centre. The dynamic city has so much energy, which is apparent in the bustling street scenes with thousands of people on motorbikes constantly on the move. From Sài Gòn, you can make a day trip to the Cù Chi tunnels and Cao Đài Holy See Temple. Located just 1.5 hrs from Sài Gòn, Mỹ Tho / Bến Tre is the gateway to the Mekong Delta and the agrarian heartland where farmers cultivate paddy fields, tend their orchards of tropical fruit and fish in the rivers and canals that criss-cross this fertile plain.
Phú Quốc Island is located of the bottom of Vietnam's south coast and is a haven for nature and sea lovers looking for a place to unwind. The island is considered "off the beaten track" as it remains remarkably undeveloped. Another set of islands are the Côn Đảo and it possibly is one of the best kept secrets in Vietnam, offering stunning forests, deserted tropical beaches and unique sea life.
Country Destinations
Select Countries to Visit
Filter Results
Trip Duration
Price Range
Country Destinations
Select Countries to Visit
Tour Categories
Select a Tour Category
Check out some great tours below that include