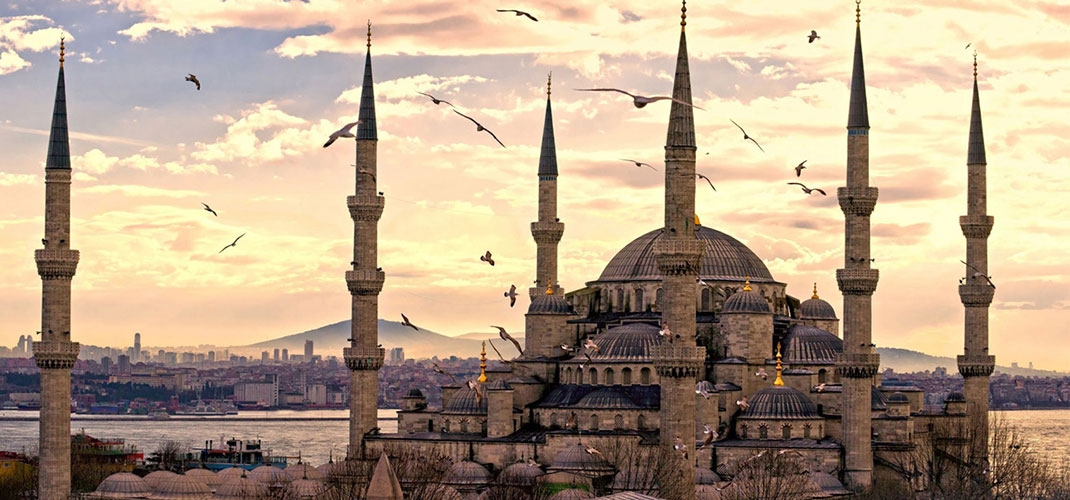 Türkiye is a modern country bounded by four seas on three sides that spans both Europe and Asia. It is a captivating blend of East meeting West with the aromas that are typically Turkish. With bustling markets filled with antiques, crafts and smells of food cooking, Mosques adorned with mosaics there is sure to be something for everyone to enjoy. Remnants of the past from both the Byzantine and Ottoman Empires give way to the capital city of Istanbul. Crossing the Bosporus Strait the city will charm you with its sites, cafés, boutiques and art. Ankara the capital of Türkiye is located in the heart of the Anatolia region. It is the cradle of countless civilisations and is culturally significant and quite a fascination city to explore.
Türkiye has many regions but the Aegean is one that most visitors love to come and explore. Home to idyllic sandy beaches and to coastal cities that are waiting to welcome you like Izmir with its hilltop Kadifekale or Velvet Castle that overlooks the city, Kuşadası a beach resort town with a seafront promenade, marina and harbour, which is also the starting point to visit the ruins of nearby Ephesus where you can see the Temple of Hadrian. Then there is Bodrum that stretches the southwest coastline with twin bays and views over Bodrum Castle. This medieval fortress is one of the Seven Wonders of the Ancient World and was completed in the 4th Century. Marmaris is situated on what is known as the Turquoise Coast or Turkish Riviera, known for its lively nightlife, music venues and popular for sailing and diving destinations. Fethiye is a stunning port city and a favourite amongst holiday makers. Along with Ölüdeniz, known for its stunning blue lagoon, white beaches it is a favourite for paragliders. Antalya is a resort city with beaches, yachts that fill its Old Harbour and Hadrian's Gate built to honour the Roman Emperor's visit in 130 AD. This along with the Mediterranean Coast has a unique climate, pristine sandy beaches, home to the blue cruise routes and is extremely picturesque and a true holiday paradise.
No visit to Türkiye would be complete without seeing the sites of Gallipoli, Çanakkale and Troy. Situated on the Strait of the Dardanelles and linking to the Gallipoli Peninsula. This narrow strait connects the Sea of Marmara with the Aegean and Mediterranean Seas. At its narrowest point it is abreast with the city of Çanakkale one of the loveliest cities to be found in the Marmara region with its ancient ruins and nearby islands. The UNESCO Listed Ancient City of Troy lies just 31 kms south of Çanakkale and is famous for its legendary setting of the long Trojan War, a city only conquered when Greek soldiers hid themselves within a peace offering of a Trojan Horse to gain access to the city. There are many excavations sites and Troy has a special importance in this area.
The Gallipoli peninsula was an extensive battlefield during World War I and the Battle of the Dardanelles, which serves as a commemorative site for Australian, New Zealand, British, French and Turkish soldiers who fought and died during these wars. Gallipoli offers some astounding tourism attractions and can be visited either by a day trip from Istanbul or by ferry from Çanakkale to Kilitabahir or Eceabat, which are both near the battlefields.
Pamukkale is a town in western Türkiye known for its mineral rich thermal waters flowing down white travertine terraces on a nearby hillside. It neighbour Hierapolis, is an ancient Roman spa city founded around 190 B.C. Ruins there include a well preserved theatre and a necropolis with sarcophagi that stretch for 2 kms. The Antique Pool is famous for its submerged Roman columns, the result of an earthquake.
Cappadocia is a semi-arid region in the west of the country. It is known for its distinctive fairy chimneys, tall, cone-shaped rock formations clustered in the Monks Valley and Göreme. Other notable sites include the Bronze Age homes carved into valley walls by troglodytes (cave dwellers) and later used as refuges by early Christians. Just east of town of Göreme is the Open Air Museum, with Cave Churches and Frescoes from the 10th–12th Centuries. Southwest is Uçhisar Castle, a fortification carved into a large rock, with panoramic views from the top.
Country Destinations
Select Countries to Visit
Filter Results
Trip Duration
Price Range
Country Destinations
Select Countries to Visit
Tour Categories
Select a Tour Category
Check out some great tours below that include