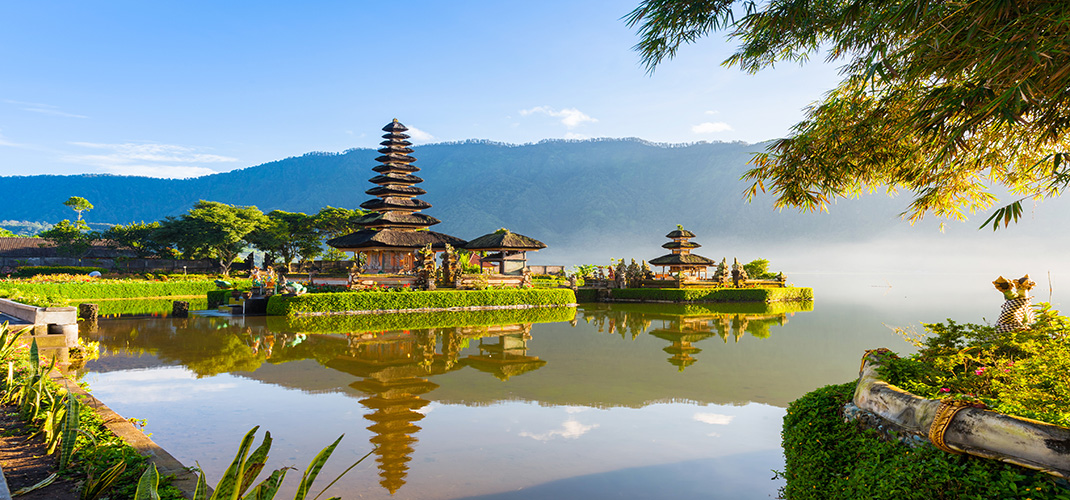 The Indonesian Archipelago is the largest island country in the world, with over 17,000 Islands and a populations of over 225 million people. Indonesia is known for its countless treasures due to its diversity of cultures, landscapes. Indonesia offers something for everyone, from major cities, tourist destinations to natural beauty, beaches, ancient Temples, active Volcanoes to diving in its largely untouched waters.
Jakarta is the Capital City and is best known for its shopping scene. Whatever your budget you will find something in one of the many malls throughout Jakarta. This city is also a cultural melting pot with a diverse mixture of traditions from Javanese and Malay to Arab, Indian and Dutch. The city has a buzzing coffee scene where you can socialise in one of the cities trendy cafés. Some of the sites to include on your visit include the National Museum, Kemang, Jakarta's trendiest neighbourhood, Jakarta Cathedral, the Istiqlal Mosque, the largest Mosque in Southeast Asia, Merdeka Square or take a day trip to the Thousand Islands.
When people think of Indonesia they think of Bali as arguably it is Indonesia's most popular holiday playground. Bali has a number of cultural landmarks and traditions however, what most people come for are the beautiful beaches, warm sand and blue water. Kuta, Legian, Seminyak, Nusa Dua and Sanur are just a few of the most visited area where you can stay in any number of resorts from budget to luxury soaking up the sun, surfing and socialising. A visit to Bali's cultural heart of Ubud is a must. Here you will find the Sacred Monkey Forest, a tranquil space where you can feel the ancient majesty of the island. At this Hindu Temple, you will also be able to see long-tailed Macaques, commonly seen throughout Southeast Asia. While staying on Bali take in a Kecak Dance, a mixture of dance and drama that tells the story of the battle scene from the Hindu classic, the Ramayana.
A visit to Pura Tanah Lot is another of the must sees when staying in Bali. This Temple compound is found on the southern coast of Beraban Village and you can walk out to the Temple at low tide. Built on a rock formation in the sea it is extremely popular with tourists at sunset and once the sun goes down, browse the stalls at Tanah Lot market to purchase unique Balinese souvenirs.
The Jatiluwih Rice Fields are another major site when coming to Bali. These lush terraces were designated a UNESCO Cultural Landscape as part of Bali's Subak System. The meticulously cultivated and irrigated fields are a testament to the wealth of natural resources in Bali as well as the carefully honed skills of the local farmers.
The Island of Lombok has some of the most stunning white sand beaches with some of the best snorkelling, kayaking and diving opportunities to be found in Indonesia. It is also home to Mount Rinjani, where a trek to the summit to see the active Volcano is a tourist drawcard. The Gili Islands are also a major draw in Lombok, which has risen in popularity over the years. These picturesque islands offer beaches that rival those of Bali in their beauty, as well as opportunities for diving and even snorkelling at a Turtle Sanctuary.
Nusa Lembongan is famous for its crystal blue waters, it offers visitors an array of water sports such as diving, snorkelling and swimming. There are also surfing opportunities and the waters are home to a vast cross section of marine life and pristine coral.
Java is another popular place amongst visitors, where you will get to see some stunning Temples, active Volcanoes, secluded Caves and Waterfalls. Yogyakarta is Java's Cultural Capital and also a University town. Yogya as it is known locally, is still headed by a Sultan who lives in his Palace known as the Kraton. Yogya has a thriving arts scene, which includes the famous Batik factories, a textile technique that involves dying fabrics that have been outlined using wax. The ancient 8th Century Temple of Borobudur is one of the most famous and culturally significant landmarks in Indonesia and located not far from Yogyakarta. It is shaped like a traditional Buddhist Mandala and is one of the top UNESCO World Heritage Sites. A visit at sunrise for a torch light climb up the Temple makes for a breathtaking experience.
No trip to Indonesia would be complete without a visit to Borneo to see the beautiful and endangered Orangutans. Tanjung Puting National Park in Kalimantan is home to the largest Orangutan population in the world, as well as other primates, birds and reptiles. Borneo is a real untamed adventure, where you can travel down the Kapuas River, the longest in Indonesia, visit villages of the indigenous Dayak people and where you can go trekking in the rainforest and have the chance to see some wildlife in person. Bukit Baka-Bukit Raya National Park is a conservation area in West Kalimantan that includes two of the highest Mountains in Borneo with wildlife such as Orangutans, Clouded Leopards, Slow Lorises, Sun Bears amongst other species.
Other places not to be missed in Indonesia include Mount Bromo, which sits on the Ring of Fire, an area with some of the most active Volcanoes in the world. Mount Bromo is best known, thanks largely to its incredible views, particularly when seen standing over the Caldera at sunrise.
Raja Ampat, the fairyland of lush, cone shaped islands set against blue and turquoise waters is one of Indonesia's most spectacular sites. Hundreds of islands and cays make up this tropical paradise. Colourful fish and a diverse variety of marine life thrive in the warm, clear waters. In fact, the coral reefs here are some of the most biodiverse on the planet, making it a popular area for diving in Indonesia.
Komodo National Park is a UNESCO World Heritage Site, home to the Komodo Dragon also known as the Komodo Monitors, the largest, heaviest lizards in the world. Encompassing five main islands plus a number of smaller ones as well as a surrounding marine area, which has some of the richest and most diverse marine life in the world.
Country Destinations
Select Countries to Visit
Filter Results
Trip Duration
Price Range
Country Destinations
Select Countries to Visit
Tour Categories
Select a Tour Category
Check out some great tours below that include