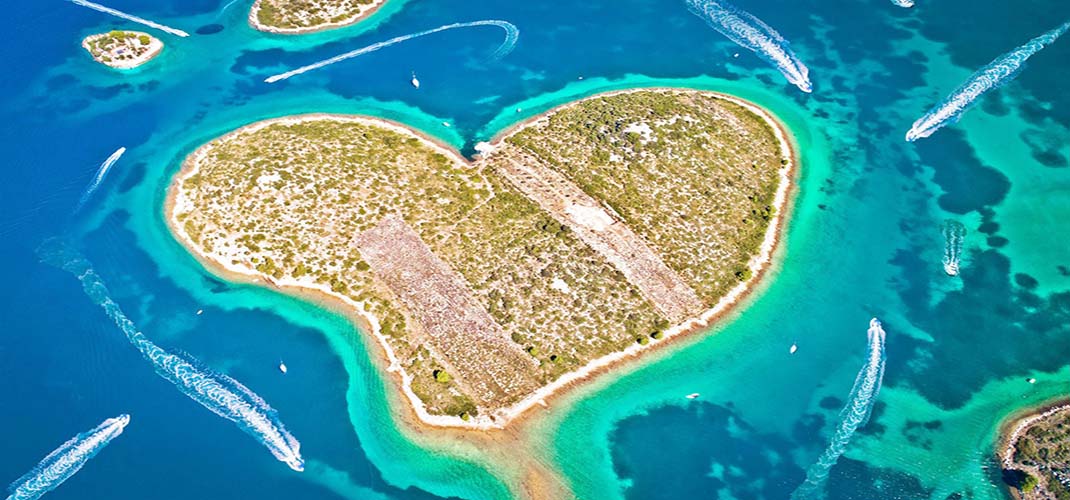 Croatia lies in Central Europe, on the shores of the Mediterranean Sea and right next to Slovenia, Hungary, Serbia and Bosnia and Herzegovina. It has a typical Mediterranean climate consisting of dry, hot and sunny weather during the summer months and relatively mild yet sometimes wet winter months.
It is one of the top countries to visit in Europe and offers a dazzling Adriatic coastline and 718 islands, 389 islets and 78 reefs. The majority of the islands are small and uninhabited but 20 larger islands are popular with visitors and include the islands of Brač, Korčula and Hvar to name but a few.
Istria is another popular destination along the coastline with its pretty hilltop towns and a strong Italian influence. The cities of Poreč, Rovinj, a jewel by the water and Pula with its 1st Century Roman Amphitheatre are all a must-see when visiting this region.
Travelling along the coast from Istria is the Kvarner Riviera. It is centred the famous holiday resort of Opatija and the busy Adriatic port of Rijeka. The islands of Krk, Losinj, Cres and Rab are also part of the Kvarner region.
Southern Dalmatia's shining pearl is Dubrovnik as well as Cavtat and Mlini and the Peljesac Peninsula also known for their great wines close to the Montenegro border.
The Makarska Riviera is famous for its stunning beaches, glistening waters and quiet bays. It also is known for the impressive Biokovo Mountain, which overlooks the region.
The UNESCO World Heritage Listed Plitvice Lakes National Park would have to be the most visited attraction in the country with its 16 lakes, interconnected by a series of spectacular waterfalls. Its natural beauty is on show everywhere and it covers a total area of 3,000 square km. The lakes are renowned for their distinctive colours, ranging from azure to green, grey or blue.
With so much to experience, come and explore the wonders of Croatia and marvel at its beautiful scenery, ancient architecture, sun drenched beaches and timeless traditions. Visit its capital of Zagreb and the ancient cities of Split, Dubrovnik, Zadar and Šibenik with their marble streets and beautifully preserved Gothic, Renaissance and Baroque Churches, Monasteries, Palaces and Fountains. Croatia is truly a destination for all types of travellers.
Country Destinations
Select Countries to Visit
Filter Results
Trip Duration
Price Range
Country Destinations
Select Countries to Visit
Tour Categories
Select a Tour Category
Check out some great cruises below that include