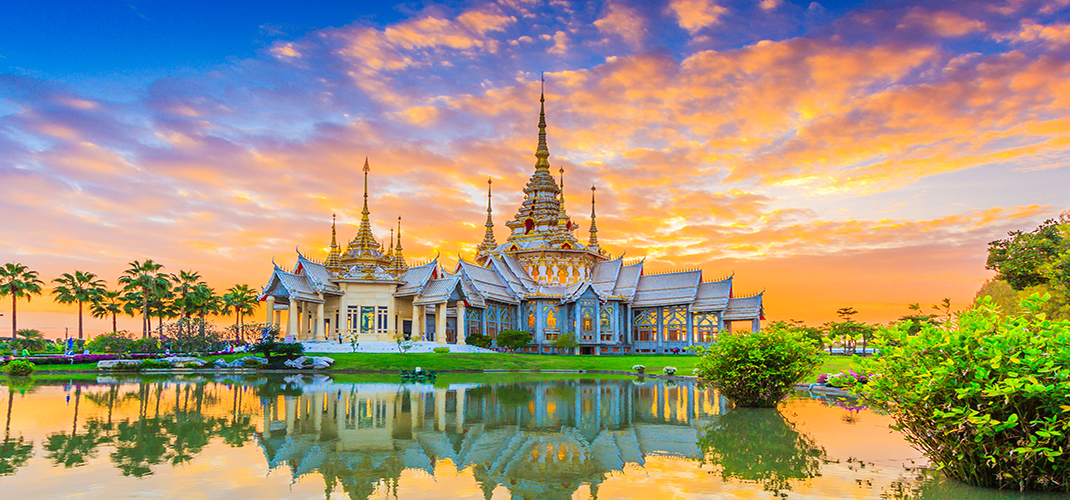 Thailand, commonly referred to as the 'Land of Smiles' is one of the most popular tourist destinations, known for its tropical white sand beaches, stunning Royal Palaces and ancient ruins. Bangkok, the Thai capital is simply a place not to be missed, with its iconic Temples of Wat Arun (the Temple of Dawn), that sits along the banks of the Chao Phraya River, Wat Pho and the Grand Palace, with its staggering craftsmanship and Wat Phra Kaew, home to the Emerald Buddha. The grounds of the Palace are a labyrinth of Royal Halls and Temples.
Alongside the historic sites of the city, you will also find fabulous art galleries and museums, a bustling nightlife and a fantastic dining scene. Bangkok's floating markets offer a unique way to shop and eat, while having a closer look into the traditional way of life. The markets cater for tourists and some have a more authentic feel and experience about them, all while you are in a both gliding through the canals and past traditional houses on stilts. The most famous markets near Bangkok are Damneon Saduak and Amphawa.
A visit to the former capital, the UNESCO Listed ancient city of Ayutthaya and its ruins will take you on a journey back to Siam's golden age. Not to be missed are Wat Yai Chai Mongkorn with its tall stupas, surrounded by rows of Buddha statues and Wat Mahathat, where the famous stone Buddha head peers out from the infinite roots of a Banyan tree growing around it as well as Wat Ratchaburana and Wat Si Samphet.
Elephants are revered in Thailand and statues and paintings of them can be seen everywhere you go. For the ultimate experience, nothing beats the chance to see elephants in their natural environment at the Khao Yai National Park. Here, you will run into elephants roaming near rivers, exotic birds of prey, monkeys and plenty of other tropical creatures that call the park home. The park is also home to many waterfalls, including the 150 metre tall Haew Narok and the even more famous Haew Suwat, which appeared in the Leonardo DiCaprio's film, The Beach.
Kanchanaburi Bridge best known as 'The Bridge over the River Kwai' is part of the Thai-Burma Railway, located alongside the Burmese border. While the Bridge remained closed for years after the war ended, it is again in operation and can be crossed by boarding a slow local train. Approximately 130 kms of the original 415 km railway route is in use today, a grave historical reminder of the horrific events that took place here. During WWII the Japanese forces used Allied Prisoners of War (mainly Australian, British and Dutch) for forced labour. Over 12,000 Allied prisoners ended up dying during the one year the bridge was under construction and reconstruction, leading to it being known as the 'Death Railway'.
Chiang Mai is often dubbed the 'Capital of the North'. With over 500 Temples to visit. When visiting Chiang Mail a must visit is to the Sunday Night Walking Street where you will find delectable food in abundance, stalls selling everything from unique goods to local hill tribe textiles, musical instruments, paintings and much more. Another on the to do list is a visit to Doi Suthep, the most famous Wat in Chiang Mai, located on a mountain overlooking the city. Doi Suthep is a marvel of intricate religious carvings and a visit here means seeing monks praying, witnessing worship rituals and a chance to look over the sprawl of Chiang Mai city below. Chiang Mai is also the gateway to the lush jungles and Thailand's highest point, Doi Inthanon, where you will get to meet the ethnic hill tribe people surrounded by spectacular waterfalls.
Often overshadowed, Chiang Rai shares its borders with Myanmar and Laos. Here you can visit the Golden Triangle, the point where the three countries meet. Chiang Rai is home to one of Thailand's most distinctive Temples, the gleaming White Temple officially called Wat Rong Khun. Visit the nation's largest statue of Guan Yin, the Chinese Goddess of Mercy for sweeping views and wander through a collection of traditional Thai buildings at Baan Dam or the Black House. The province also offers excellent hiking and trekking opportunities and more authentic encounters with the local hill tribe ethnic groups. There are also waterfalls and hot springs and other natural features to enjoy while here.
When speaking of the excellent beach destinations in Thailand there are too many to name but the main ones would have to be Pattaya with its numerous go-go bars and tailormade for snorkelling. This fun filled resort enjoys a lot of attention from overseas visitors. Phuket, the largest island and one of the best loved and most visited. It has some amazing beaches including Patong and Karon just to name but a few with its vibrant nightlife and many watersports opportunities.
The Island of Koh Samui is home to some of the most stunning golden coastline and an ideal place for peaceful relaxation and watersport and appeals to everyone from families to honeymooners. Koh Phi Phi is one of Thailand's most popular resort areas due to its crystal clear blue waters, the soft sand and breathtaking views that go on forever. Check out Maya Bay and Phi Phi Viewpoint to see why! Perhaps one of the most fun spots on the island is Monkey Beach, where you'll come face to face, literally, with plenty of Macaques ready to steal your lunch. Krabi is home to some of Thailand's most famous beach destinations including Railay Beach, which tops the list as one of the most spectacular with white sand, turquoise blue water and just giving you the feeling you have found yourself in a slice of paradise. Others definitely worth mentioning is Tonsai Beach with its stunning limestone cliffs that hugs the sandy coastline with its amazing turquoise waters. Tonsai Beach has long been considered a climbers' paradise.
The Similan Islands located off the coast of Phang Nga Province, out in the sparkling waters of the Andaman Sea, are ranked among the best places in Thailand for scuba diving and snorkelling. The water is teeming with intriguing marine life and underwater features. Fishing is also madly popular on the islands, themselves much loved for their dense forests, curious rock formations and picturesque white, sandy beaches. Note that the Similan Islands are generally closed to visitors between mid-May and mid-October.
Check out some of our popular City Breaks!