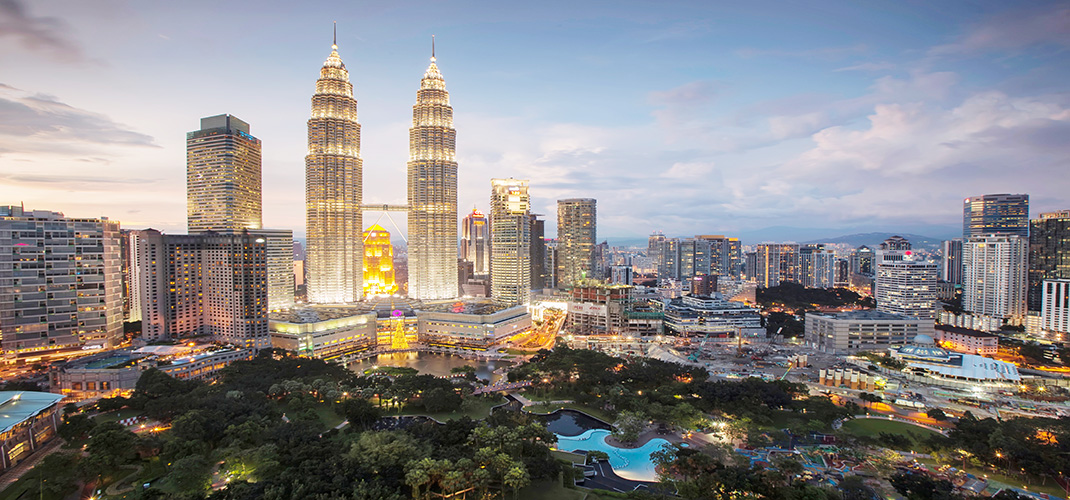 Malaysia has a diverse landscape and culture, which includes Malays, Chinese and Indian populations. Situated on the Malay Peninsula it extends to parts of Borneo (Sarawak and Sabah) where it shares a border with neighbouring Indonesia. It has UNESCO Listed historical sites as well as a 130 million year old jungle, beautiful beach resorts and secluded islands.
Kuala Lumpur or KL the capital, is a major business hub in Southeast Asia. KL's architecture is postmodern and showcases motifs found in Islamic art to represent the Muslim majority in Malaysia. One of the city's most iconic sites is the Petronas Towers and the main attraction is the sky walk over the sky bridge that joins them together where visitors can admire the views that stretch across Kuala Lumpur and KLCC Park at the base of the towers. The immense KLCC complex includes the mighty Petronas Towers, Suria KLCC a six story shopping centre, which includes a cinema, rides, a supermarket and a variety of dining options including food courts.
Other sites not to be missed included the KL Tower or Menara Kuala Lumpur stands at 335 metres and has an observation deck that offers stunning panoramic views across the city. KL's Central Market, also known as Pasar Seni, is a favourite amongst tourists and was developed from a former wet market selling fruit, vegetables, and meat. The oldest Hindu Temple is the 9th Century, Sri Mahamariamman Temple, it is well worth a visit for those wanting to learn about the diverse cultures and religions that make up this city.
The National Museum is located near the famous Lake Gardens, it is an architectural wonder in itself as it is fashioned in the shape of a traditional house and includes decorations that are a mixture of contemporary and more traditional designs. Built in the early 1900's, the Jamek Mosque is one of the oldest Mosques in Malaysia and is often visited for its Moorish architectural style and for its location, as it sits at the site where the Klang and Gombak Rivers meet. A hidden jewel and rarely visited is the Royal Selangor Visitor Centre, which showcases the history, factory and products of Royal Selangor since they began production in 1885.
Located outside of Kuala Lumpur lies the Batu Caves where visitors can marvel at the limestone cliffs that are dotted with caves and carved Cave Temples. The Caves and Temples are Hindu Shrines and are still considered and important place of pilgrimage for the many Tamil residents of Malaysia.
Ipoh, Perak is becoming a must visit area in Malaysia. The historical centre consists of colonial buildings and traditional shophouses, while a plethora of Buddhist and Hindu Cave Temples surround the city centre. Kellie's Castle, is an incomplete former Colonial Mansion, is only a short drive from the city.
William Cameron, a British surveyor discovered the Cameron Highlands in 1885 and it has now become a tourist hotspot. Today, it is filled with Emerald Green Tea Plantations, which overlook the skyline, along with strawberry and vegetable farms. A great place to cool down from the heat of the city.
Malacca City exudes with history and culture. Listed as a UNESCO World Heritage Site, this Colonial City sits along the Strait of Malacca attracting tourists with its local architecture, food and famous Jonker Street Night Market. The 15th Century Malacca Sultanate is widely considered to be from the golden age of Malay culture. Other places to visit while in Malacca include St. Paul's Church, the A Famosa Fort and Stadthuys (official residence of the Dutch Governor).
Penang Island is situated off the west coast of Malaysia with George Town as its capital, named after British King George. A UNESCO World Heritage Site, Penang has a focus on conservation and preservation. Penang is also famous for its Tropical Spice Garden that showcases the best of the region's local flora and fauna such as the Torch Ginger, a plant used in many traditional Malay dishes. George Town itself is an Open-Air Museum. The colonial district boasts a wide selection of British buildings and Churches and is home to Fort Cornwallis. Stroll through the streets and see traditional shophouses, each with their individual design and style and where street art and murals decorate the walls. Penang mixes its history with Temples like Kek Lok Si, vibrant shopping areas and food courts.
Langkawi Island is located on an archipelago of over a hundred islands in the Andaman Sea, only two of which are inhabited, Langkawi being the largest. Popular with both backpackers and honeymooners alike it has something for everyone, a true tropical paradise.
Kota Kinabalu is the Capital of Sabah with its iconic floating Mosque, malls, buildings and stretches of orange sand islands accessible within 10 minutes. Head to Tanjung Aru Beach for a spectacular sunset or stroll along Likas Bay to marvel at the coast and islands. The five islands, known as Tunku Abdul Rahman Marine Park, are a brilliant day trip for snorkelling, beaches and relaxation.
The Perhentian Islands are a small archipelago located in the South China Sea off the Coast of Terengganu. They are ranked as one of the most beautiful places to visit in Malaysia. The region is comprised of seven islands in total, five of which remain uninhabited. A holiday here is to enjoy picturesque white sand that stretches around sparsely populated areas, with crystal clear water that laps against the shore and where activities like scuba diving, snorkelling and canoeing can be enjoyed.
Pulau Tioman was once acknowledged by Time Magazine in the 1970's as one of the most beautiful islands in the world. Not a lot has changed since then, it still has unspoilt beaches and dense rainforest with stunning waterfalls. The island offers a more secluded feel than the likes of Langkawi where you can enjoy snorkelling and scuba diving as well as jungle trekking or touring the island by bicycle or motorbike.
Country Destinations
Select Countries to Visit
Filter Results
Trip Duration
Price Range
Country Destinations
Select Countries to Visit
Tour Categories
Select a Tour Category
Check out some great tours below that include