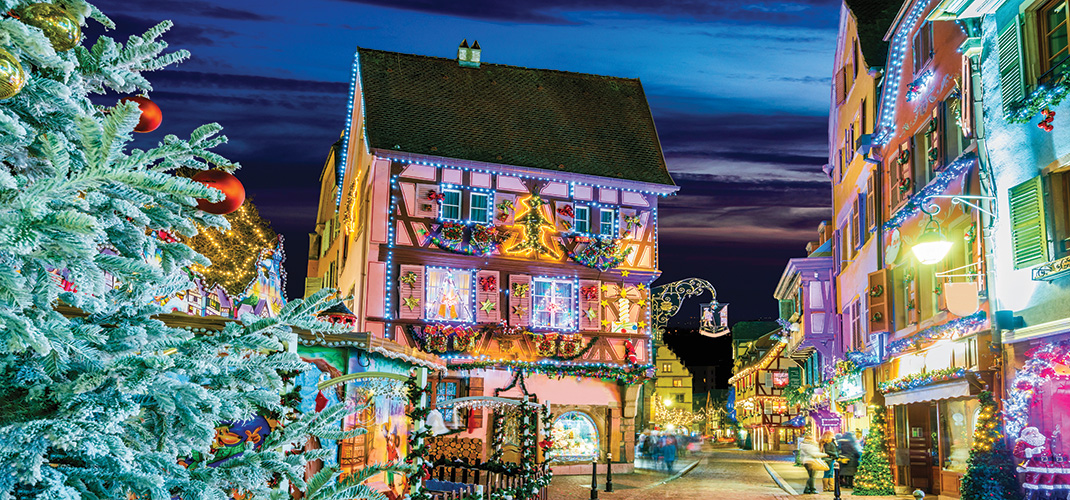 With colourful Christmas Markets, stunning twinkling lights that line the streets, seasonal displays, music and ice rinks, Europe really comes alive in December. Combine this with holiday shopping, traditional foods and sightseeing and you cannot beat the unbelievable atmosphere of Christmas or New Year in any number of European cities. Here are just a few highlights!
Austria is considered to be one of the oldest Christmas Markets in not just Europe but the entire world. Vienna is like no other European city at this time of year with markets, holiday music and concerts at the stunning Schönbrunn Palace. Salzburg Christkindlmarkt is cemented to its age old traditions that date back to the 15th Century. Salzburg works as one of the traditional cities with a strong historical background for those who want to spend time over Christmas in one of the best places in Europe.
Germany has some of the best known Christmas Markets in Europe, with the air filled with fragrant roasting chestnuts, grilled sausages and other local specialities of the regions. Most of the markets and festivals are held outdoors, so be sure to dress appropriately as it is likely to be snowing. Don't forget to bring a bag with you because you are sure to be tempted by the beautiful handmade goods you will find. Some of the most famous Christmas Markets can be found in Nuremberg, Munich, Dresden and Frankfurt, just to name but a few.
France is magical at any time of year, however the Alsatian City of Strasbourg has the oldest and best Christmas Market in France located in a fairytale like setting with half-timbered houses as a backdrop. Paris with its stunning store windows and beautiful Noël displays, patisserie shelves with seasonal delights, fresh Oysters from Brittany, Foie Gras, Truffles, Chestnuts, Champagne and the must try Bûche de Noël. Be sure to take a stroll down the Champs-Élysées, to see the extravagant Christmas decorations, which are illuminated by thousands of lightbulbs. Galeries Lafayette department store presents splendid window displays during the holiday season including an enormous Christmas tree that hangs from its roof.
England is full of holiday spirit with London's shimmering Christmas lights found throughout Oxford Street, Regent Street, Mayfair and Sloan Square amongst others. The department store windows come to life with magical scenes that fill children with joy. Every year the windows of Harrod's, Selfridges and Liberty as well as others show off their new surprises and displays. London is also an iconic destination for New Year with the countdown at Big Ben and the fireworks display fired across the Thames and the London Eye. Edinburgh is another wonderful destination to visit over the holiday season with its Christmas Market being ranked amongst the best in the United Kingdom. However, New Year's Eve in Edinburgh is truly one of the best with the Scots celebrating 'Hogmanay'. This is celebrated with gigantic parties, open-air concerts, international artists and huge firework displays.
Finland is the official home to Santa Claus, up at the North Pole and a visit to Rovaniemi located just 6½ kms inside the Artic Circle is a bucket list vacation. A visit to the Santa Claus Village is a must for most children and adults alike. Send a letter from the Santa Claus Main Post Office, meet Santa's Reindeer in the village, take a snowmobile ride, visit a Husky farm or Elf's Farm Yard Zoo, there is something for everyone.
Switzerland is synonyms with this time of year as it is one of the best getaways over the Christmas period in Europe. This a true winter vacation destination complete with magical snowy Alps that won't leave you disappointed. Enjoy your stay in an Alpine Chalet enjoying Fondue and Raclette made from locally produced cheese. Hmmm!
Poland is amongst the best Christmas destinations in Europe. With enthusiasm and joy as any of the Catholica nations in Europe, they have twinkling Christmas trees set up in their town squares, delightful Church services and prayers and lavish feasts on Christmas Eve called Wigilia.
Czechia has that old world charm with Prague Castle, decorated with lights and holiday cheer. The Castle grounds include St. Vitus Cathedral and St. George's Basilica, which both offer Advent concerts and the area in front is one of the city's most popular Christmas markets. A favourite holiday food is Trdelník, a hollowed out pastry dough covered in cinnamon sugar and popularly served with soft serve ice cream.
Hungary is another charming city to visit, from riding the lit streetcar to ice skating around Budapest Park, Budapest is one of the most fascinating and best places to spend Christmas. It has something for everyone including attending the midnight mass at the St. Stephen's Basilica, to being a part of the traditional and classic Hungarian Folk Show.
Italy is a truly religious place over Christmas with the Popes Mass being televised worldwide on Christmas Eve. It is thought that St. Francis of Assisi originated the first public nativity scene, known in Italy as a Presepe, when in 1223 he built a replica of the nativity at his mountain hermitage in Greccio, near Assisi. The annual tradition continued and spread throughout Italy, taking several different forms in different regions and towns. Other beautiful Italian cities include Florence with its stunning lights, trees and piazzas that welcome you through the holiday period. Why not experience the 'Dolce Vita' in Rome for a warm, gastronomic and festive New Year.
Amsterdam, The Netherlands glows with fairy lights that reflect into the canals and the Amsterdam Light Festival has a different theme each year and illumination artists have free reign to interpret it, with spectacular results.
Reykjavik, Iceland bursts into a whirl of colours and cheer over the festive time, filled with an aroma of freshly baked goods and the sounds of carollers echoing throughout the buildings.
Porto, Portugal is a great place to spend New Year and tops a lot of traveller's wish lists. The countdown in front of the Porto City Hall is followed by concerts and parties in the bars, restaurants, nightclubs and a truly unique experience enjoy at least once in your life.
New Year's Eve in Athens, Greece is a euphoric affair, from the pedestrianised area beneath the Acropolis, which comes alive with live music, DJ sets and performers to the view of the Acropolis as it is lit up at midnight by α magnificent fireworks display. However, Syntagma Square is the place to be for that all night party vibe in the open-air.
Country Destinations
Select Countries to Visit
Filter Results
Trip Duration
Price Range
Country Destinations
Select Countries to Visit
Tour Categories
Select a Tour Category
Check out some great river cruises below that include