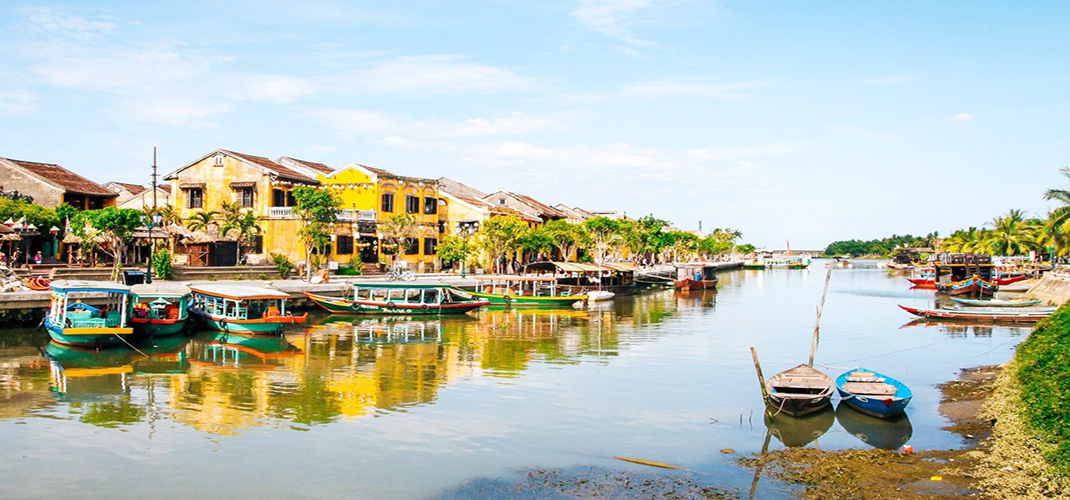 Located along the coastline in central Vietnam just a 30 minute drive from Đà Nẵng International Airport, this riverside town once drew merchants from as far as Japan, India, Indonesia and Europe who bought the areas silk, spices and porcelain.
Hội An still retains some remnants of its post trading days. This is evident in their bustling market and in the streets, which are overflowing with tailors eager to make you an outfit in just 24 hours. Leather goods and jewellery are also a temptation for shoppers.
The allure of Hội An is found in its narrow streets of the UNESCO World Heritage Listed Ancient Town with old tiled roof shop houses and pagodas was a lively hub from the 15th to the early 19th Century. A must see photo stop is at the ornate Japanese Bridge and why not go inside the Tấn Ký ancestral house and wander the Phúc Kiến Assembly Hall.
Surrounded by attractive countryside where you can observe the traditional way of life of both the Hội An farmers and fishermen. With water buffalo's brushing their tails and flocks of herons this is truly a magical site. The island of Cẩm Kim is just a short ferry ride away with its lovely landscape. Or why not pass by the quiet riverside areas of Cẩm Thanh and Trà Quế, with their vegetable farms and frond-fringed ponds. Sunrise in and around Hội An is such a sight to behold, why not hire a local bike and take a ride around the local region.
When dining out in Hội An this becomes pure heaven with the fruit and vegetables from the local farms and fishing boats bringing in their daily catch to the markets. Local specialities include Cao Lầu (a noodle dish), Hoành Thánh (crispy wontons) and white rose shrimp dumplings. If time prevails try and book in a cooking class as most will include a trip to the Hội An Market.
Lastly but by no means least just a ten minute drive from the centre of town you will find the sandy beaches and cool ocean breeze of the Vietnamese coastline and An Bàng Beach. Here you will find some great seafood eateries and for a day of sun, surf and snorkelling why not take the ferry to the Chàm Islands, with its pristine beaches and some great diving spots.
Check out some of our popular City Breaks!