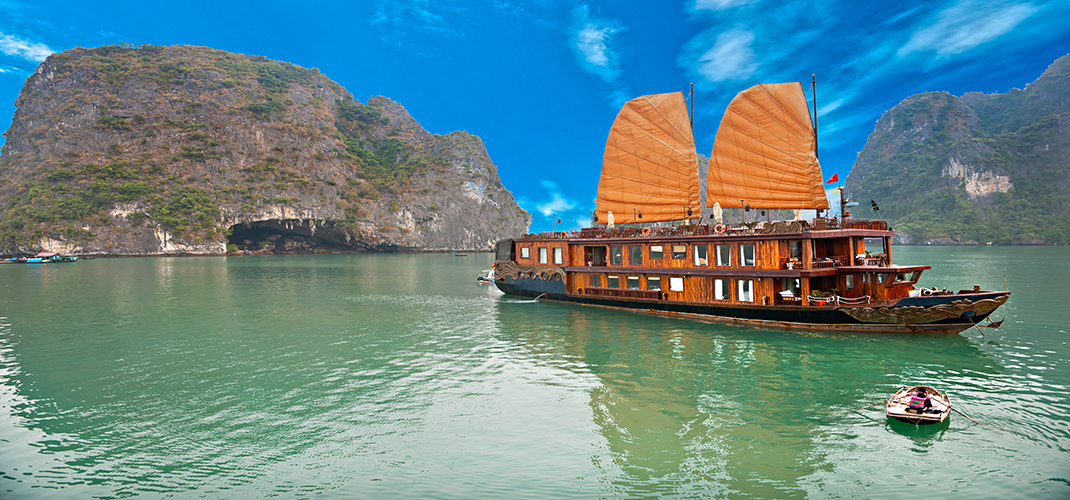 Declared a World Heritage Site by UNESCO in 1994, Hạ Long Bay is a naturalist's dream with spectacular views and more than 3,000 limestone karsts. With its emerald green waters amongst thousands of rugged islands, hidden lagoons, deserted beaches, islets, spectacular caves and impressive and karsts, Hạ Long Bay will definitely not disappoint you. If cruising is not your thing then maybe another option would be to take a 30 minute sea plane flight from Hà Nội to Tuần Châu Port in Hạ Long Bay.
Cửa Vạn is the largest fishing village in Hạ Long Bay and is located at Hùng Thắng. It lies in a calm bay and is surrounded by huge karst Limestone Mountains and islets. There are approximately 180 households living on their floating houses making their living mainly by fishing.
Whilst you can stay on the mainland and take a day trip out to Hạ Long Bay it is more spectacular to spend at least one night on its calm waters on a cruise. Wake up and see the magical sunrise then join an onboard Tai Chi class before breakfast. Most of the cruises will stop at Titov Island where you if you are fit enough you can scale the hundreds of steps to the top for an amazing panoramic view over the bay.
Lying just south of Hạ Long Bay is Cát Bà Island with its thickly jungle type interior. Hiking is very popular and you have the opportunity to either climb the island's highest peak or to trek to a remote village before having to take a ferry back to Cát Bà Town. While here why not head up to the Cannon Fort, not far from the town where you will see a slice of military history but also some amazing views over Lan Hạ Bay.
Hạ Long Bay is definitely a mystical place of beauty and must be included on your next visit to Vietnam.
Check out some of our popular City Breaks!