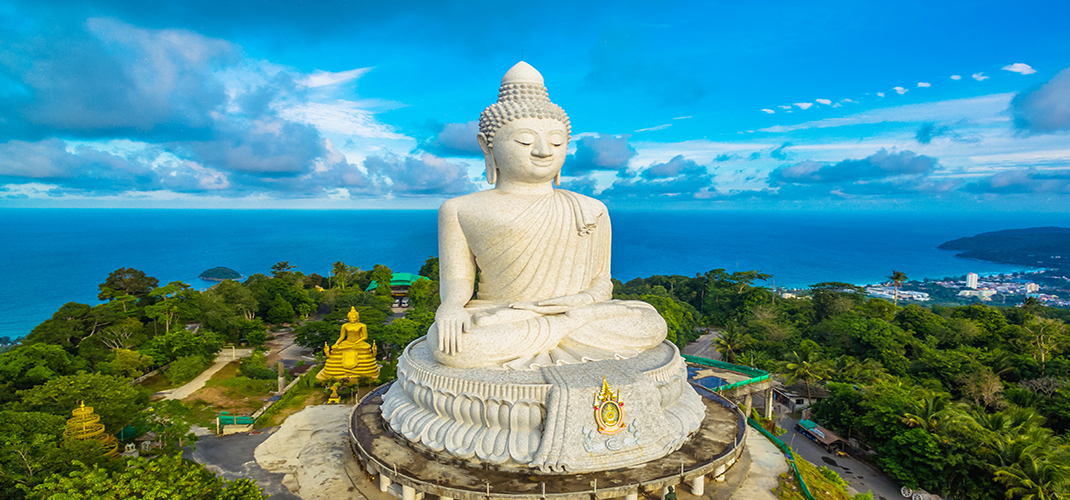 Phuket is Thailand's largest island and one of its most famous. This is a holiday mecca where visitors come from all over the world to relax in its crystal blue waters, sandy beaches and enjoy some of the best diving and snorkelling sites in Thailand.
Phuket Town sits on a picturesque bay. The city is bustling with activity, has many hotels, restaurants, massage parlours and other tourist attractions. In the Old Town the Thalang Road is lined with 19th Century colourful shop housed and Sino-Portuguese buildings. Places to visit include the Phuket Trickeye Museum and the Jui Tui Shrine.
Patong Beach is one of the longest and most stunning beaches on the island. It is a bustling hub of activity with plenty of shopping sites to keep you entertained and lots of resorts along the main beach road.
Karon Beach is not as developed as the other beaches but sits only 15 minutes from Patong Beach. It has a long strand with golden sand and sapphire blue water that attracts many couples and families. When the weather is calm, Karon is a lovely spot for a swim, however when the wind whips up the, big waves roll in and strike the open coastline.
Kata Beach is fringed with palms and casuarinas. It has lush hillsides at either end and hugs the curving bay. It is still touristy but more peaceful than Patong Beach with a considerable lesser amount of hawkers. There is a small islet just off the coast and the beach has soft white sand and a great snorkelling site. If you wish to have an even quieter spot then head south to the adjacent Kata Noi Beach.
Karon Viewpoint or Three Beaches Hill is just south of Kata Noi Beach. The views from this vantage point give you the most stunning views over three of Phuket's most beautiful beaches of Kata Noi, Kata Yai and Karon Beach. To the north your viewpoint is one of the most iconic views with a little bit of everything that makes this island so picturesque with white surf, turquoise blue seas and emerald hillsides. This is one of the islands most visited places by photographers.
Bang Tao Beach is a relatively quiet beach despite its close proximity to numerous restaurants, shops and resorts. The beach stretches for more than six kilometres and is the second largest in Phuket. For a little piece and quiet head to the northern tip as it is less populated. Here you will more than likely run into a fisherman or two going out to get their daily catch.
Paradise Beach is like looking into a glossy travel magazine, picture perfect and is only ten minutes from Patong Beach. The area offers visitors are more relaxed and laid back atmosphere. The beach is rather small but better protected from the wind. The area is a snorkeller's dream with a coral reef just 100 metres offshore.
A visit to Wat Chalong, not only the largest but also the most beautiful of all of the 29 Temples in Phuket is a must. It is dedicated to two highly respected monks Luang Pho Chaem and Luang Pho Chuang. The Grand Pagoda protects a fragment of Lord Buddha's bone and features murals depicting images from the Buddha's life story. Visitors must dress respectfully and are not allowed to wear shoes inside the Temple and women must cover their shoulders and knees.
One of Phuket's biggest sites is the Big Buddha that sits calmly above the island at the top of Nakkerd Hills between Kata and Chalong. The Big Buddha is one of the island's most distinctive landmarks and you can enjoy spectacular 360 degree views from the summit. Faced with white jade marble, it is a peaceful spot to take time out from your busy day. To reach the top you have the options of taking a Tuk-Tuk or a taxi or if you are fit you can climb the steep flight of stairs to the monument.
Other areas to visit while in Phuket are Ra Wai Village, a small fishing village on the east coast of the island. It will give you a glimpse into the lifestyle of the Moken, a tribe of sea gypsies. Ra Wai beach is covered with coconut palms, swamp oaks and fishing boats and is also known for its seafood markets. If time prevails then a one day organised island tour to nearby Phang Nga Bay including a visit to the distinctive James Bond Island or another to the Phi Phi Islands where you will see the famous Maya Bay Beach is a must. Phuket's markets are a real mixture of street food, touristic attractions and a real bargaining mecca. A must visit is the Sunday Walking Street Market, the Banzaan Fresh Market and the Phuket Weekend Night Market.
Check out some of our popular City Breaks!