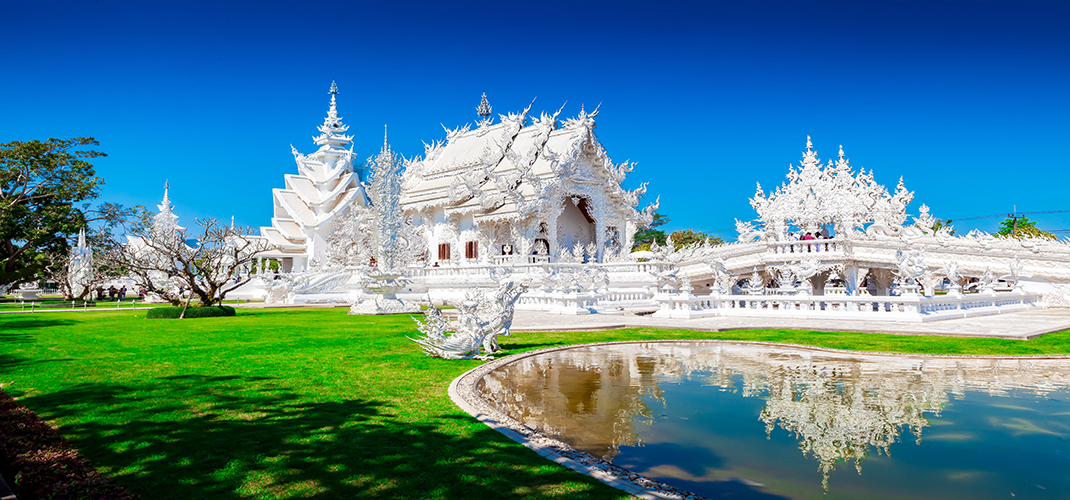 Chiang Rai is situated in the northern part of Thailand close to the borders of Laos and Myanmar. There are plenty of interesting things to see and do here including visiting the stunning Wat Rong Khun, seeing diverse Hill Tribes, caves and even a cascading waterfall. Wat Phra Kaew is a Royal Temple that once housed the beautiful jade Emerald Buddha, however now it only displays a replica.
Wat Rong Khun or The White Temple is a major highlight of any visit to Chiang Rai. This is one of the most unique Temples, which was created by the famed Chaloemchai Khositphiphat. This Temple is a privately owned art exhibit in the style of a Buddhist Temple.
The Khun Korn Waterfall is a relaxing and fun day out and only about an hour's drive from Chiang Rai. Take a walk through the forest to reach the astounding 70 metre tall waterfall making it a refreshing way to spend a hot Thai day.
Chiang Rai Clock Tower was built to honour His Majesty King Bhumibhol Adulyadej. The clock tower bears the same unique style of Chaloemchai Khositphiphat, the artist who conceived and built the White Temple. Every night you can enjoy the clock tower coming to life in a light and sound display at 19:00, 20:00 and 21:00pm.
The Black House or Baan Dam Museum was also inspired by Chaloemchai Khositphiphat. The Black House has a traditional Thai feel, however once you look a little further you see a more morbid side appear, with decorations made out of animal skins and skulls. The artist hoped to create a space that shows the darker side of human thoughts and actions and this is highlighted with an onsite torture chamber in one of the outlying buildings.
Pong Phra Bat Hot Springs are a local favourite, just 14 kms from Chiang Rai City the combination of both hot springs and waterfalls is a relaxing adventure. Even if it is a little rustic on the outside this appealing attraction includes a small park, two concrete bathhouses with private sunken tubs and an outdoor pool with divine views.
The north of Thailand and especially Chiang Rai is home to diverse and vibrant hill tribes. The Hill Tribes Museum and Education Centre allows you to gain some insight into their history, their traditions and of course their culture. There are seven major hill tribes that reside in the region including the Karen, Hmong (Meo), Yao, Akha, Lisu, Lahu and Lawa.
Another region to explore is the Doi Mae Salong, nestled in the mountains close to the border of Myanmar in Chiang Rai Province. Originally the mountain was the home to a Chinese military division settlement, however now it is home to numerous hill tribe communities. Mae Salong Village offers striking nature, some delicious tea tasting opportunities and the chance to immerse yourself in local rural village life. For a really optimal experience why not hire a motorbike and drive along the spectacularly beautiful 1234 Highway.
For all those cultural enthusiast the Oub Kham Museum is a chance to learn about the Lanna culture and its history. You can see through their displays some of the most unique Buddha images, ancient antiques, pottery, tribal artefacts and costumes.
The world famous Golden Triangle makes for an exhilarating day trip. It is the area where Thailand, Myanmar and Laos meet. The region is famous as it was previously widely known for its poppy growing and thriving opium trade, which today has been replaced by more sustainable livelihood crops such as coffee, rice, fruit and vegetables. Visitors can rent a Long-tail boat and cruise down the river along the shores of the three countries.
Check out some of our popular City Breaks!