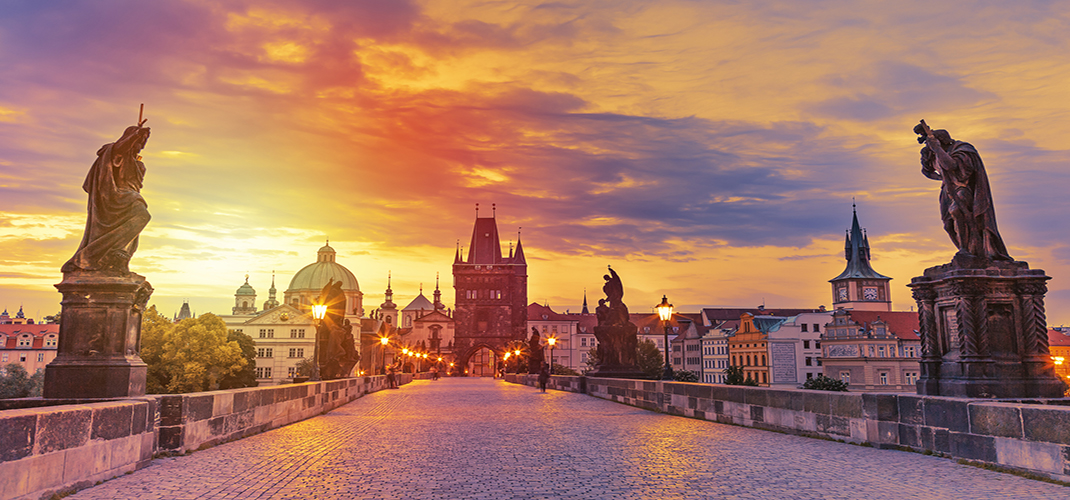 Prague is known as the "City of a Hundred Spires", it is a UNESCO Monument and one of the most beautiful cities in the world. It is situated on the picturesque Vltava River, which spans thirty bridges from where you can see steamers and pedal boats gliding through the water.
The Old Town Square of Prague is the beating heart of the historical centre. With its famous medieval Astronomical Clock, Baroque style buildings, Gothic Churches and Romanesque Chapels to the winding lanes of the Old Jewish Quarter, best known by the novels of Franz Kafka and steeped in the legend of the Golem. This city is further complimented by the medieval Charles Bridge with its Baroque Statues.
Discover the views and charms of the Lesser Town roofs from St. Vitus Cathedral or for an unforgettable view why not go to the Petřín lookout tower, to Letná Park or to the ramparts of Vyšehrad. A surprising view will arise for those who decide to climb Vítkov Hill, dominated by the majestic statue of military leader Jan Žižka. From here you will get to see the illuminated panorama of Prague Castle, especially in the early evening. Prague has breathtaking views all year round and each of Prague's different districts has its own unique charm and atmosphere.
Prague is unquestionably a modern city and with this comes a wide range of restaurants offering Czech delicacies with a varied world class cuisine. Discover the tastes and aromas of the city and enjoy an unforgettable dining experience with almost unlimited options. After your busy day of sightseeing why not check out a traditional Czech pub or restaurant offering great service, stunning views and excellent beer. Dobrou chut' is how they say bon appétit in Czech!
Check out some of our popular City Breaks!