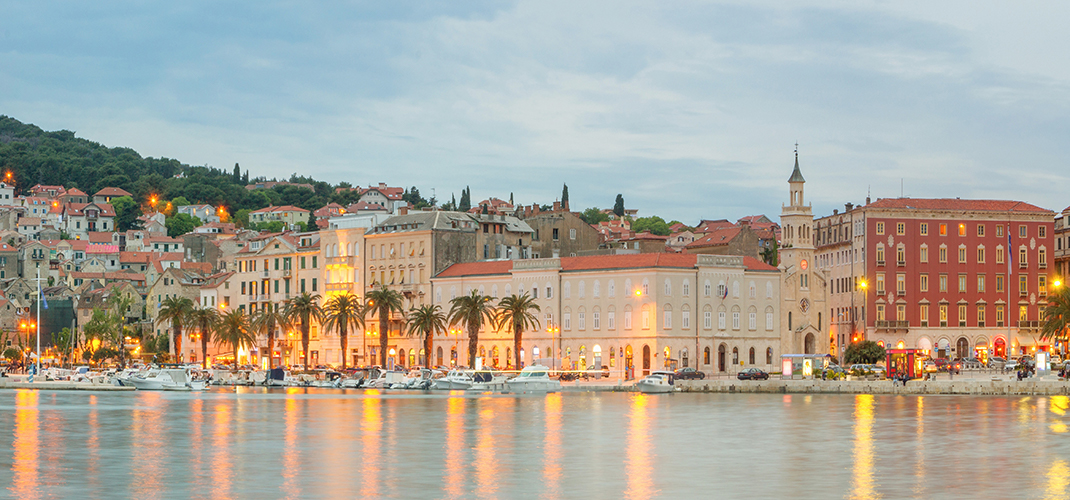 Split is the second largest city in the Dalmatia region with some fantastic sites to see both Roman and modern. The ancient centre with its Roman Palace is like nothing you would have seen before. The 4th Century UNESCO Listed Diocletian's Palace dominates this city and its historical core with its Roman ruins. With its ancient Temples, walls and columns it was once the retirement hope for the Roman Emperors. The architecture has been kept intact for centuries like the mausoleum, however incorporated into new more modern buildings. The original 24 supporting columns mingle with the hallmarks of a Catholic place of worship and you must check out the Romanesque Cathedral with its wooden doors, which have stood unaltered since 1200. The central part of the structure dates to 350, making St Duje's the oldest Cathedral building in the world.
Peristil Square is an original Roman Court; here you can see the architectural majesty of Old Split with two 3,500 year old Egyptian Sphinxes brought to Split by Diocletian.
The Cathedral and the iconic Bell Tower are six storeys high and in a Romanesque design since the 1000's. If you are up for the climb to the top you will be rewarded with some of best views over Split and the Adriatic. Other sites to visit would be the Golden Gate and the Grgur Ninski a 10th Century Bishop Statue. People rub Ninski's big toe for good luck and years of contact have made this little nub of bronze gleam.
An hour from Split is the Krka National Park with its large natural pool, fed by travertine waterfalls on one end and then emptied by cascades on the other. There are 17 waterfalls in this spot alone and tallest gets up to almost 50 metres. You could lose hours feasting your eyes on this scene.
Another UNESCO Site is Trogir, a beautiful medieval city you can't help but fall in love with. It has some of the best preserved Romanesque and Gothic architecture in Europe. The 15th Century walls protect a labyrinth of streets where buildings have stood unchanged since the 1200's. The location is part of the charm, a fortified island connected to the mainland by a bridge. With ten historic Churches and an exquisite 13th Century Cathedral this small city is everything you wish for and more.
Off the coastline from Split are the islands of Korčula and Hvar. Korčula is said to be the birthplace of Marco Polo one of the world's greatest writers. This treasured island is the sixth largest in Croatia and is known for its dense forests. The main resorts are Korčula Town and Vela Luka. There are also smaller villages dotted around the island worth taking a visit too. Hvar is the fourth largest island in Croatia and has rolling hills, lush vineyards, delightful beaches and tiny inlets with secluded coves. Hvar Town has a vibrant nightlife amongst its medieval streets. The other main resorts are Stari Grad, Vrboska, Jelsa and Sucuraj.
There is an abundance of excellent options for eating out. A not to be missed dish of the region is their famous Octopus Salad, which is a combination of succulent boiled octopus, chopped onions, parsley, olive oil and vinegar. Pjaca Square and Marmont Street both have great cafés, shops and restaurants with a local charm all their own. With plenty of nightlife, beach opportunities and lots of choice for those wanting day trips Split is a great destination.
Check out some of our popular City Breaks!