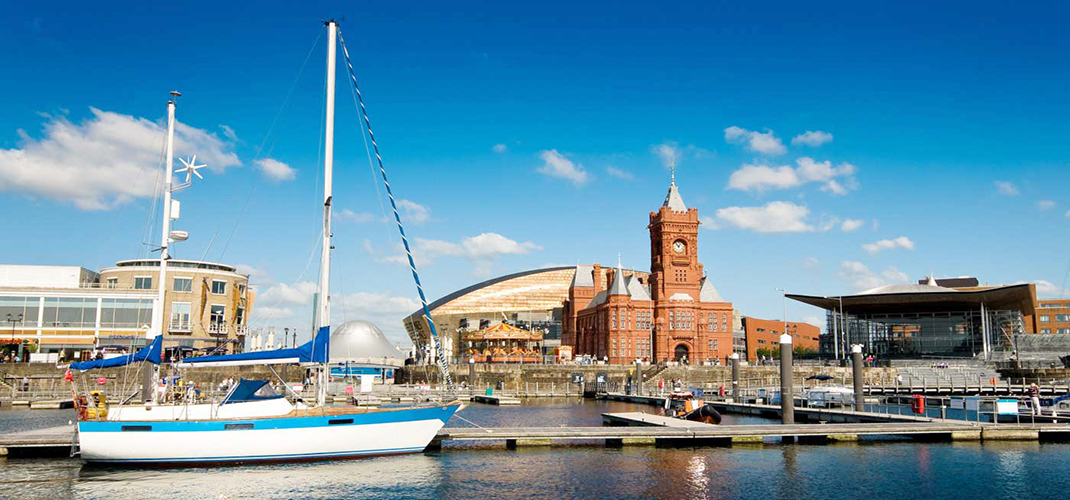 Cardiff is the small and welcoming capital of Wales, a dynamic city with a prosperous cultural scene. It is famous for its rich history, a spectacular castle and holds numerous sporting events as the people are extremely passionate about their football, rugby, cricket and even ice hockey teams.
The nearly 2000 year old Cardiff Castle is situated in the middle of the city with its Roman walls, 11th Century Norman keep and Victorian mansion that was decorated by the 3rd Marquess of Bute (1847-1900). The interior received a lavish makeover in the 19th Century interior and while taking a tour of this beautiful masterpiece you will see the intricate carvings, ornate decors and rich colours from Gothic, Mediterranean and Arabian designs.
The Old Library is home to the Museum of Cardiff. Here you can explore Cardiff's fascinating history through photographs, films stories and objects. There are also interactive exhibits to enjoy.
Cardiff is lucky to have many open green spaces. Bute Park has extensive grounds ready to be explored, which were gifted by the 5th Marquess of Bute to the city. Why not take a walk along the River Taff, which runs through the park where you can relax or enjoy the local wildlife. Within the park the Taff Trail is a popular path, which links Cardiff Bay and Brecon. You will often find a lot of cyclists as there are many bike paths to enjoy. A visit to the Secret Garden Café in the heart of the park is a must, with its local produce and wonderfully created vegetarian and vegan dishes.
If you wish to take a detour through Bute Park then head towards the fashionable Pontcanna then onto Llandaff, which was the birthplace of the famous novelist Roald Dahl. It is also the home to Llandaff Anglican Cathedral and Parish Church. It is the seat of the Bishop of Llandaff, head of the Church in Wales, Diocese of Llandaff and is dedicated to Saint Peter and Saint Paul as well as three Welsh Saints, Dubricius, Teilo and Oudoceus.
Why not enjoy the beautiful scenic landscapes of Cardiff Bay with a local boat trip, where you can experience all the natural beauty and unique locations that Cardiff Bay has to offer including the Welsh Assembly and the Norwegian Church buildings.
On the outskirts of Cardiff is the forested area, which is home to the whimsical 19th Century Gothic Castell Coch or Red Castle in English. Nearby lies one of the largest castles in Wales, Caerphilly with its well preserved moat.
There are many other interesting sites worth visiting while in Cardiff and the local region, including the National Museum or the St. Fagan's National History Museum to the Wales Coast Path via Gower with its stunning scenery, along the waterfront of Cardiff Bay and Cardiff to the market town of Chepstow. History, culture, nature are all in abundance along with the friendliest of people.
Check out some of our popular City Breaks!