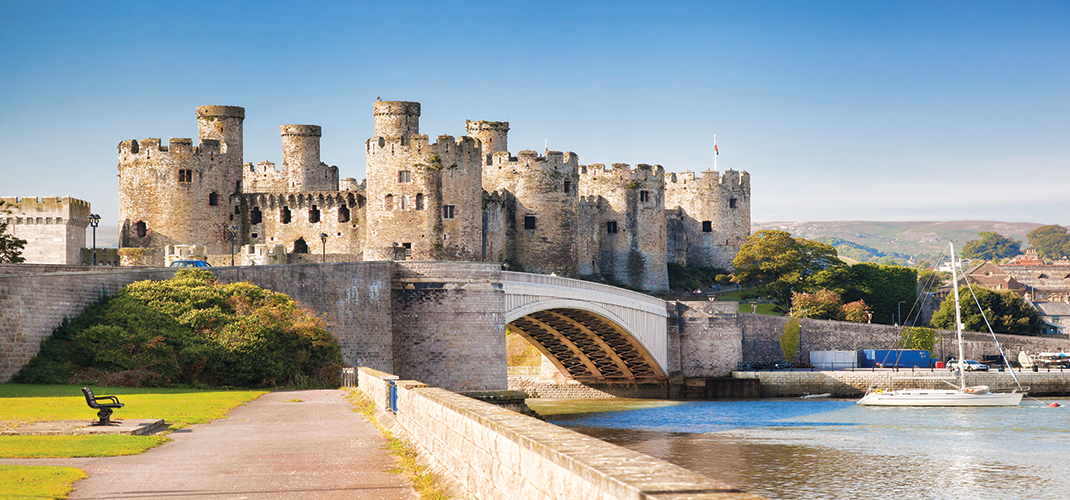 Wales is located in the southwest part of Great Britain; it is a place of natural beauty with a rugged coastline, beaches, lakes and some impressive national parks. Wales is a place of charm, Celtic culture, medieval castles, hiking trails, great food and quaint market towns and not least its vibrant cities of Cardiff the capital and Swansea. You can discover the history of Wales through visiting its many museums and ancient monuments. The Welsh language is one to get your head around, as it is a Brythonic language with its origins in British Celtic.
Welsh cuisine is a delight for the tastebuds from dishes such as Cawl, Welsh rarebit, Laverbread, Bara Brith and Glamorgan sausages to lovely Welsh cakes. Having so much fresh produce it brings out the artisan producers with the best of Welsh flavours.
When visiting North Wales the first thing you will notice is the dramatic landscape. With the unparalleled beauty of the Isle of Anglesey, the north is full of character and history some dating back to the Bronze Age. If you want a little bit of that outdoor adventure then a visit to Snowdonia has to be on your wish list. With everything from lakes, glacial landforms, cycling and walking trails to golfing and beach holidays and narrow-gauge railways.
South Wales is where you will find the capital Cardiff, it is a hub for creativity, sporting events and culture as well as a great nightlife ethos. There are also some dramatic coastlines to explore as well as some bustling market towns and churches.
Wales has plenty of Castles to come and explore, in fact over 600 of them, from the 13th Century Conwy Castle, Caernarfon Castle, which overlooks the Menai Strait, Dinefwr Castle, Cardigan Castle, Carew Castle, Cardiff Castle and Powis Castle just to name but a few.
Mid Wales is classed as the green heart of the country with its Ceredigion coastline. Here you will find jolly harbour villages, busy markets and hilly walks. The spectacular green rolling hills of Powys are the largest in the country. Cardigan Bay is a great destination if you want the peace and quiet to get away from it all on your next holiday as it has lakes, beaches, waterfalls, wilderness and those quaint market towns with wonderful local produce.
The West side of Wales is home to Swansea, the second largest city in Wales after its capital, Cardiff. It has some of the best beaches found in the UK as well as some of those charming seaside villages people love to talk about. With many galleries and museums to visit it definitely has a cultural feel about it.
The Wales Coast Path covers 1,400 kms and is a formal trail that surrounds the entire coastline of Wales. The Path has a lot to offer with cliff top walks, picturesque fishing villages and vivacious cities. While exploring the Wales Coast Path you will be taken aback by the stunning beauty of its castles, windswept beaches and tiny hamlets and coves. Travelling from the River Dee to the Isle of Anglesey, to Cardigan Bay and Pembrokeshire via Gower to Cardiff Bay there is somewhere for everyone to enjoy.
Check out some of our popular City Breaks!