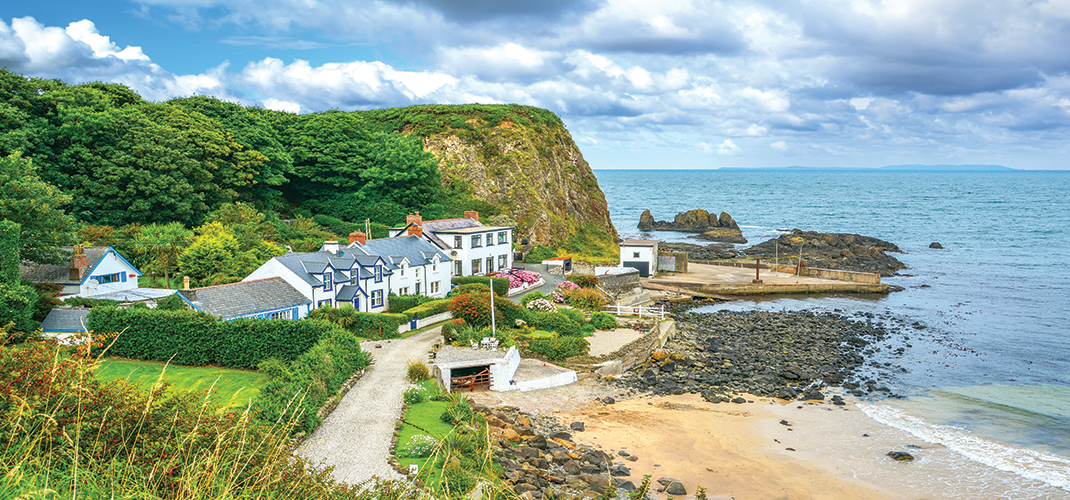 Northern Ireland is a country, which is part of the United Kingdom. It is located on the northern part of the Irish island and shares its border to the south and west with the Republic of Ireland. If you are looking for a little inspiration look no further than Northern Ireland. Here you will discover a truly hidden jewel, one of those places that you will want to see more of.
Spend some time wandering the cobbled streets of Belfast's Cathedral Quarter or just a ten minute drive away you will discover Cave Hill. Although a challenging trek to the top, the views over Belfast can be seen from its peak, as well as to the Isle of Man and Scotland on those nice clear days.
A visit to the World Heritage Giant's Causeway is a must on your next visit! The legendary challenge is to cross the 30 metre deep and 20 metre wide chasm via Carrick-a-Rede Rope Bridge to its tiny island neighbour, all while trying to stay out of the water and keeping your feet dry.
County Armagh has a rich Georgian heritage with church spires and orchards to the looping waterways of County Fermanagh. The views along the way leave you with the sensation that you have entered into another world as you cross from bridge to bridge, before coming up on the mighty Lough Erne. There are castles and fortifications a plenty in Derry-Londonderry, where there is one of the world's best preserved walled cities. A short drive south east brings you to County Tyrone. Where you will see the dry stone walls of the Sperrin Mountains.
For the Game of Thrones® fans there is plenty to see and do. In County Down, there is Castle Ward Estate (Winterfell) and Tollymore Forest Park (the Haunted Forest). County Antrim has the Cushendun Caves, which appear as a Stormlands Cove and of course, the world famous Dark Hedges double as the Kingsroad. In County Londonderry, Downhill Beach and Mussenden Temple feature as Dragonstone locations, while in County Fermanagh, Pollnagollum Cave became the fictional Hollow Hill secret hideout.
If you prefer a more celestial star gazing experience then Northern Ireland has Finn Lough, a resort in the County Fermanagh Lakelands where you can stay in a secluded forest bubble dome, where you can lie back on your four poster bed with plush robes and slippers and watch the starry night skies up above. Or why not take a visit to the OM Dark Sky Park and Observatory in the Davagh Forest, near to Cookstown in County Tyrone. Davagh has one of the darkest skies in Ireland, which means there is so little light pollution that there are crystal clear views of the star constellations.
With lush green agricultural land, lakes and seas swarming with fish, you won't be surprised to discover that Northern Ireland is home to some of the freshest and tastiest fine food on these islands. From Belfast's Cathedral Quarter with its Michelin star restaurants to seafood restaurants in Holywood, Country Down just outside the capital, offering great menus overlooking the Belfast Lough. There are gin distilleries like Rademon Estate, home to the Shortcross Gin; distilled using locally picked wild botanicals and fresh well water to wild sika venison in County Tyrone where the Baronscourt Estate takes pride of place. This produce has won several awards both in Ireland and the UK. If you're willing to taste great beer with a strange twist then the Walled City Brewery's Derry Milk Beer might just be for you. Hand crafted from chocolate stout and organic cow's milk, this smooth alcohol experience is one you're unlikely to forget.
Check out some of our popular City Breaks!