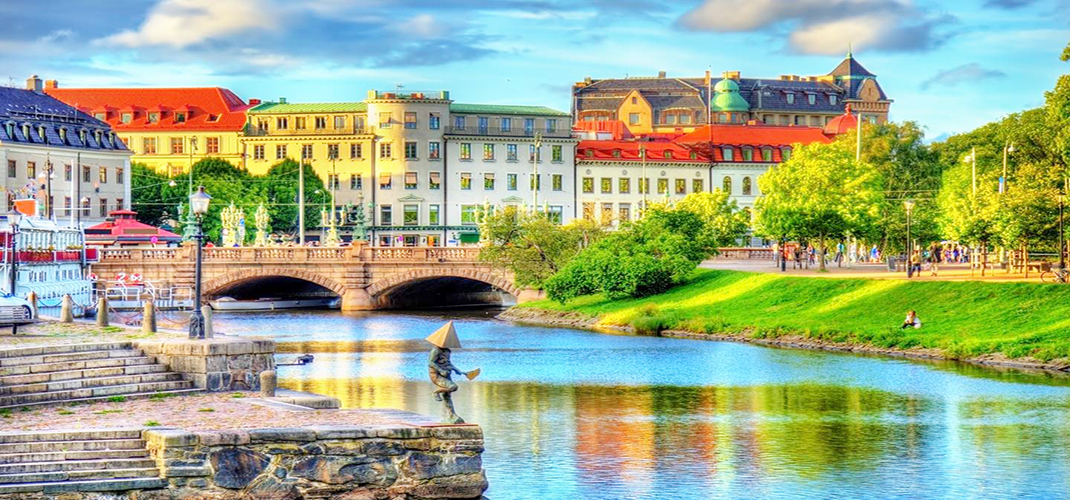 Sweden comprises of thousands of coastal islands and inland lakes, with vast boreal forests and glaciated mountains. Its main cities include Stockholm, Göteborg and Malmö, along its coastline. Stockholm is built on 14 islands and has more than 50 bridges, the medieval old town of Gamla Stan, Royal Palaces and Museums including the Open-Air Skansen.
Göteborg (Gothenburg), combines vibrant urbanity with a warm and friendly seaside charm. Founded by King Gustav II Adolf in 1621 it is an important commercial fishing hub and there is no better place to get your hands on high quality seafood than on these shores. Göteborg can be enjoyed on foot, with its cobbled streets lined with charming shops and cafés. Göteborg is also the birthplace of Volvo cars.
Malmö with its stunning Old Town (Gamla Staden) is filled with warmth, cobblestone streets and of the past. The Old Town is an island in the heart of the city and while wandering the picturesque streets, you'll inevitably end up in Stortorget, the oldest and largest square in Malmö, encircled by beautiful 16th Century architecture and the 14th Century Gothic Church of St. Petri Kyrka.
Uppsala is just one hour from Stockholm. Known for the 15th Century Uppsala University, the original building, Gustavianum, is now a museum housing the Augsburg Art Cabinet, an elaborate, 17th Century cabinet of curiosities. Nearby is the Carolina Rediviva Library, which displays an astonishing 6th Century Silver Bible, one of the world's oldest and most extensive Gothic codices. Uppsala Cathedral is the burial place of Swedish Royals like King Gustav Vasa, who died in 1560. Uppsala Castle houses three museums including the Uppsala Art Museum, House of Peace and Vasaborgen. It has expansive grounds and you will have the opportunity for panoramic views over the city from its roof.
Other Swedish highlights include Helsingborg, a coastal gem with picturesque streets, boasting historical significance such as the medieval Kärnan Tower and the remains of Helsingborg Castle. Hälsingland, known for its spectacular nature and carefully preserved cultural timber abodes, which form part of what is collectively known as 'Hälsingegårdar' (the Decorated Farmhouses of Hälsingland) a collection that was granted UNESCO World Heritage status in 2012. Värmland is a natural wonderland stretching across the central west and spanning rolling hills and deep forest and boasting some 10,000 lakes, ideal for outdoor activities including kayaking, swimming, fishing, cycling, hiking and skiing.
Sweden's many castles are dotted throughout the countryside including Skokloster Castle just fifty minutes from Stockholm. This Swedish Baroque Castle was built by Carl Gustaf Wrangel between 1654 and 1676 and is situated on Lake Mälaren.
Swedish cuisine today centres on healthy, locally sourced produce and shaped by its climate, while certain preparation methods can be traced back to the Viking era. Reindeer meat is still eaten in northern Sweden as part of the Sami culinary tradition. Still a big part of the Swedish food culture is "Husmanskost", best translated to comfort food, eg: hearty meals often consisting of meat, potato and a serving of boiled vegetables.
Check out some of our popular City Breaks!