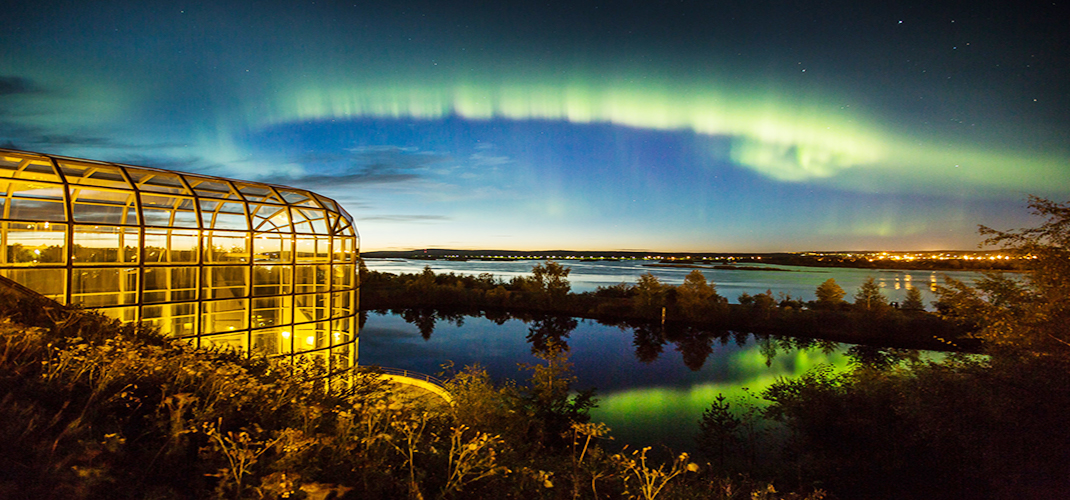 Bordering on the Arctic, Rovaniemi, capital of Lapland is a mysterious place of snow and ice in winter where you can even eat and sleep in a building made of ice. It is home to Lapland's Provincial Museum Arktikum, the forest themed Pilke Science Centre and the Korundi House of Culture.
Considered by the Finns to be the official hometown of Santa Claus, it is the city's most famous resident and he can be visited every day of the year in the Santa Claus Village right on the Arctic Circle, which also houses the Santa Park Arctic World.
Husky mushing is definitely one of the favourite ways to travel around Lapland and it is also great fun! In Rovaniemi, you can meet husky dogs and try dog sledding all year round. You can visit a husky farm to learn the life of a musher or have a relaxing husky therapy day.
Nearly every visitor in Rovaniemi and Lapland wants to enjoy a reindeer sleigh ride. So why not take a calm reindeer sleigh ride or make a memorable farm visit to see the life of the reindeers. In Lapland, local reindeer herders live with their reindeer throughout the year as this is their main source of income. Reindeer farm visits are also possible in summer time.
The time of magical light Kaamos, is the Finnish word for Polar Night and defines the time on the Polar Regions when the sun does not rise above the horizon in the midwinter. The opposite of Polar Night is the natural phenomenon called the Midnight Sun during the Arctic summer months and lasts for about a month. Both times of year are equally spectacular times for photographers and not to be outdone is the Northern Lights or Aurora Borealis, which are visible for around 150 nights a year in Lapland from early afternoons during Polar Night. This spellbinding astral show can only be witnessed on clear and dark sky nights when there is no pollution in the sky from late August until early April.
Lappish cuisine is simple and rugged. Fresh seasonal ingredients play a key role in preparation and bringing out their original flavours. In Rovaniemi, Lappish food tastes equally delicious in a fine dining setting as well as by a campfire in the wilderness. Sautéed reindeer served with mashed potatoes and fresh lingonberries or lingonberry jam is the most classic dish. No parts of the reindeer goes unused as the meat is served as fillets, cold cuts, jerky, mince and sausages, just to name a few examples.
Every season in Finnish Lapland is uniquely different from each other so just come up and visit this amazing are and Rovaniemi to make some unforgettable memories.
Check out some of our popular City Breaks!