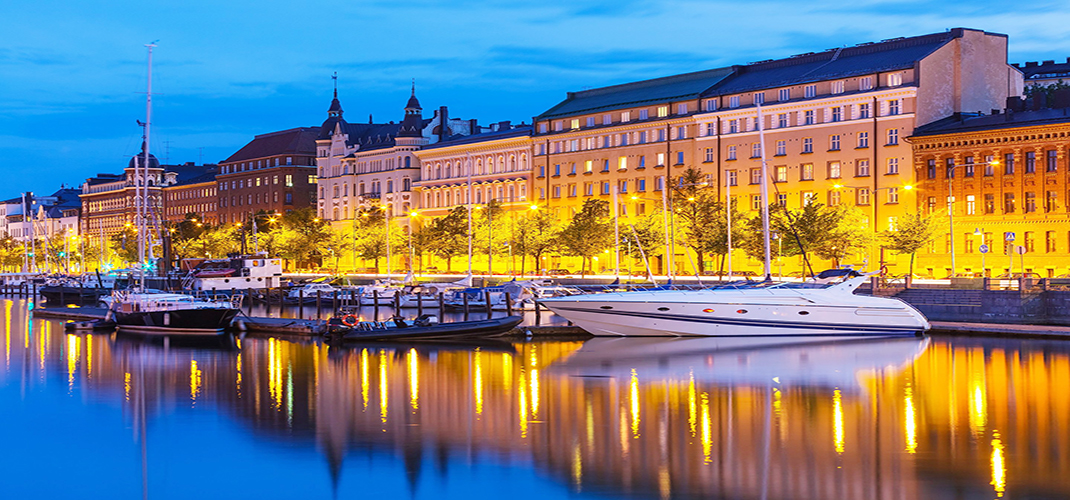 Helsinki, capital of Finland is a very compact city, where a majority of the sites and attractions are all within walking distance of the city centre. Located by the sea, this city has many great maritime attractions to visit, like the UNESCO World Heritage Site of the 18th Century Suomenlinna Fortress, which you can take a ferry from the Market Square. All the sites are so accessible from the city centre around Senate Square and the buildings are a wonderful example of neoclassical architecture.
The city has so much to see and do and all can be achieved from the central avenue of Mannerheimintie. From here you are bordered by the National Museum, the imposing Parliament House and Kiasma, a contemporary art museum. While the ornate red brick Uspenski Cathedral overlooks the wonderful harbour. Kamppi Chapel of Silence is a sanctuary situated in the midst of Helsinki city centre. The chapel is tiny, yet has a warmth and calm about it.
Helsinki Cathedral was built in the neoclassical style; this white building overlooks the city and has become the symbol of the nation's capital and one of only two national shrines together with Turku Cathedral. The dome reaches a height of 62 metres and it is surrounded by four smaller domes and zinc statues of the Twelve Apostles at the apexes and corners of the roofline.
When in Helsinki a visit to the City Museum is arguably a great way to understand how this city became what it is today. Housed in five separate buildings on the Cathedral Square, there are exhibitions ranging from traditional Finnish costumes to 19th Century home décor. The centre also takes a look at the cultural life of the city. Virtual reality technology combined with old photographs also allows visitors to feel as if they have literally stepped back in time to Helsinki's past.
Why not stop and say hello to Helsinki on your next visit to openly explore such a wonderful city.
Check out some of our popular City Breaks!