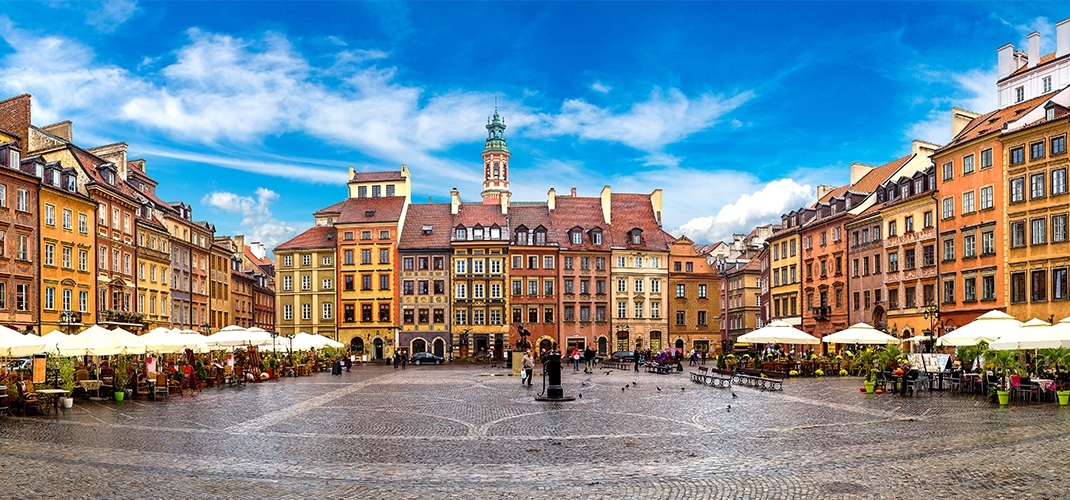 Warsaw is a magnificent city, especially the UNESCO World Heritage Listed Old Town. Totally rebuilt after World War II, Warsaw has a special ambience around its core, which is proudly guarded by the Warsaw Mermaid, a symbol of the city. Across on the other side of the Vistula River you get another type of view looking back over the Old Town. From here you will be in awe of how unusual the panorama of this city really is. With its Old Town Market Place and its red roofs, cafés and restaurants this city comes alive for its unique historical charm that blends with its new modernism. Warsaw has become one of the most rapidly developing cities in all of Europe, surprising you with its different sides everywhere you look.
When in Warsaw a walk along the Royal Route is a must. The route links the former residences of the Polish rulers and then goes down to the Vistula River where you can see the city's most modern boulevards stretching between the Multimedia Fountain Park and the Copernicus Science Centre. Make sure not to miss seeing the Barbican and St. John's Cathedral, as well as exploring the picturesque winding streets that this city has to offer. Between the 16th–18th Centuries, the Royal Castle, which was originally the royal residence currently houses a museum. Today, the Royal Castle has been completely restored and refurnished with repossessed furniture and works of art.
Check out some of our popular City Breaks!