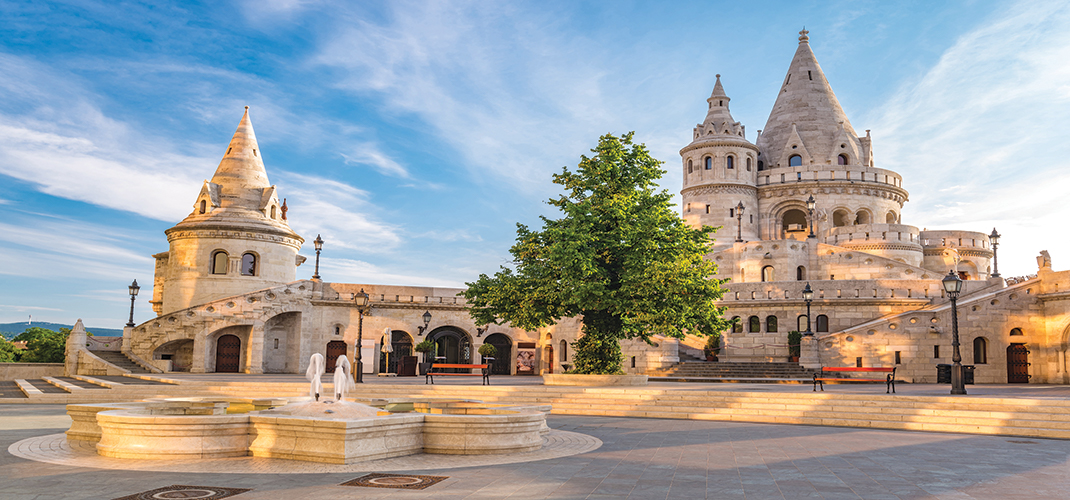 Budapest is divided by the River Danube. Its 19th Széchenyi Century Chain Bridge connects the hilly Buda district on the western side with the flat Pest district on the eastern side. Why not take the funicular, which runs up Castle Hill to Buda's Old Town. The iconic Buda Castle District houses the historical Castle and Palace complex. The awe inspiring Baroque style Royal Palace was completed in 1769 and is a UNESCO World Heritage Site. The former Royal Palace is now home to the Budapest History Museum and the National Gallery.
Trinity Square is home to the 13th Century Matthias Church and the turrets of the Neo-Romanesque Fishermen's Bastion, which offer sweeping views. This is a city of surprises, with its dynamic city centre, tall church spires and lavish spas. There are hundreds of ways to discover Budapest beginning with Gellért Hill where you can enjoy breathtaking views over the city from the Citadel, a fortress built in 1851 by Julius Jacob von Haynau, a commander of the Austrian Empire.
Cross the river for the most magnificent building on the Pest Embankment, the Parliament Building, one of the finest examples of Gothic and Renaissance Revival architecture in the world. For sacred wonders, visit the tallest building in the city, Saint Stephen's Basilica, a jewel in Budapest's crown. Taking pride of place in the centre of the city, the world famous Roman Catholic Basilica is named after Stephen, the first King of Hungary. One of the largest Synagogue's in the world, the Dohány Street Synagogue, undoubtedly is a key highlight of the up and coming seventh district. The synagogue complex houses the Great Synagogue, the Heroes' Temple, the graveyard, the Memorial and the Jewish Museum.
Build in 1896, Heroes' Square will give you a peek into the romantic past of the country and in Memento Park you'll have a chance to enjoy a modern history lesson in the open. If you are looking for a bit of romance, why not take a stroll along the Danube promenade or head to the leafy Margaret Island.
Check out some of our popular City Breaks!