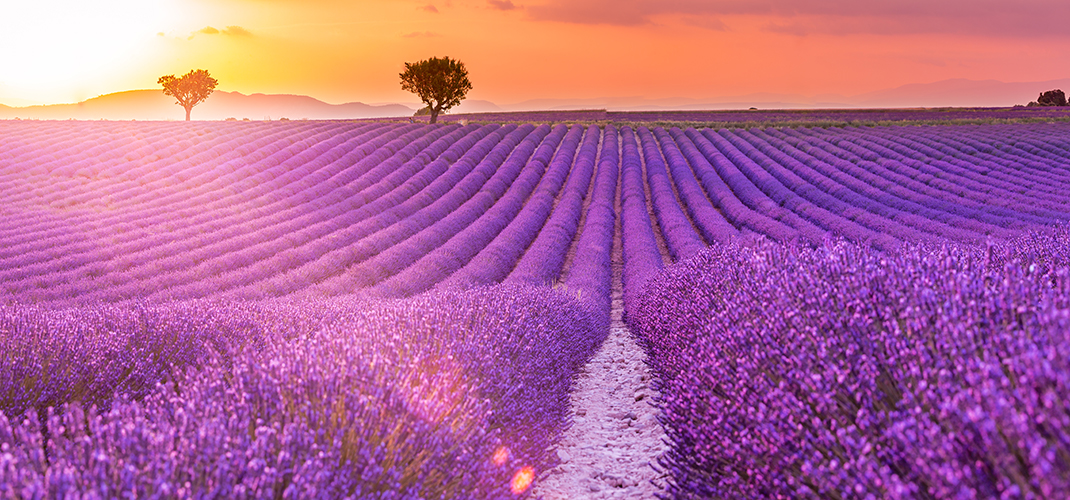 The mere mention of Provence invokes some the most idyllic images of lavender fields, sunflowers, olive groves, vineyards and that indefinable light that inspired painters like Cézanne. There are certain places not to be missed when visiting, like Avignon with its Papal Place, the Calanques with its incredible rocky inlets sitting between Cassis and Marseille or the Lavender fields that dot the landscape. Throughout this magnificent region you can enjoy some of the most delectable Mediterranean cuisine and there are a number of wine regions including Coteaux Varois, Cassis, Bandol, Coteaux d'Aix-en-Provence and Les Baux-de-Provence and Côtes de Provence AOC.
Avignon is a crowing jewel due to its architectural masterpiece of the Palais des Papes (Palace of the Popes). Along the River Rhône, you will find the UNESCO World Heritage Medieval Bridge, made famous by the children's song "Sur le Pont d'Avignon". The town itself has plenty to offer including fine arts and the Musée du Petit Palais, which displays works by the great masters from Italy including Giovanni Bellini, Sandro Botticelli and Vittore Carpaccio. The most acclaimed piece is Botticelli's La Vierge et l'Enfant (Madonna and Child) painting. Located just 20kms from the town is Châteauneuf-du-Pape, a medieval village where the Popes of Avignon built their summer palaces.
Another traditional Provençal town is Aix-en-Provence, recognised by its tree lined streets, historic squares and fountains. The centre of Aix-en-Provence is the Cours Mirabeau, a large boulevard with outdoor cafés. Other places to visit include the Cathédrale Saint-Sauveur, the Musée Granet, an exceptional fine arts museum with masterpieces by Rembrandt, Rubens, Cézanne, Monet and Picasso, amongst others and the outdoor Provençal markets.
Just 22 kms from Marseille, Cassis is a picturesque fishing village with a vibrant ambience and framed by its semicircular bay. In the early 20th Century, Cassis became an artists' village when artists captured scenes of colourful pastel painted houses lining the harbour and small fishing boats that were docked in the marina. Linking Cassis and Marseille is a series of rocky inlets, known as the Calanques. These stunning limestone cliffs shimmer before they fall into the clear turquoise water of the Mediterranean and provide a magical setting for hiking, scuba diving and rock climbing.
Arles is a city drenched in history and sunshine. Its heritage dates back to the antiquity. It is hard not to be impressed by the UNESCO Listed Monuments, including the Roman Amphitheatre and the 12th Century Eglise Saint-Trophime. With its many tree covered squares and narrow pedestrian streets that meander through the Old Town it is no wonder that Vincent van Gogh lived in Arles between February 1888 and May 1889, where he painted over 200 works around this lovely Roman town.
Gordes has a remote charm, sitting perched amidst a rugged landscapes of the UNESCO Listed Luberon Natural Regional Park. It has been named one of the Plus Beaux Villages de France with its cobbled streets and houses built of golden stone that bend their way up around a mountain, culminating in a 16th Century Château. The village has been home to celebrated painters, amongst them Marc Chagall and Pol Mara. The Senanque Abbey is one of those must visit attractions especially when the lavender is in bloom between June-August. Provence and Lavender seem to just go hand in hand. The purple hues and delicate fragrances that decorate the fields every summer are now so emblematic of the region.
Roussillon is another popular village to visit. Teetering at the top of a cliff beside an old ochre quarry with charming 17th and 18th Century dwellings painted in shades of the local ochre rock with a backdrop of colourful mountain vegetation and rugged panoramas that has attracted many artists.
The pretty village of Saint-Rémy-de-Provence with its medieval walls, fountains and one of the oldest arcs de triomphe in France, sits at the foothills of the Alpilles Mountains. Loved by many art lovers around the world it has inspired some of the most celebrated works by Van Gogh, who painted The 1889 Starry Night while a patient at the local asylum, along with The Wheat Field series from 1889–1890. You will also find the birthplace of the astrologer Nostradamus here.
L'Isle-sur-la-Sorgue was previously a nautical village but now is a major attraction for antiques lovers, hosting vibrant traditional markets every Sunday. Its annual antiques fair is considered one of the best in the world, drawing hundreds of dealers. With plenty of traditional riverside cafés and shops that line the winding stretches of water wrought by historic boats, it has earned the town its nickname: 'the Venice of Provence'.
The beautiful medieval village of Saint-Paul-de-Vence is perched high on a hilltop and surrounded by its well-preserved ramparts. Upon arrival through the ancient town gates, you will be transported back to a magical place with a labyrinthine of cobblestone streets, tiny alleyways and small squares, which are adorned with bubbling fountains. Since the 1920's, many artists have been drawn to Saint-Paul-de-Vence and its artistic heritage, which are still on display at the Fondation Maeght. The permanent collections include mosaics and paintings by Chagall, Bonnard and Léger and sculptures by Giacometti.
For the nature lovers Gorges du Verdon runs 25 kms through the Verdon Regional Park and is often referred to as one of Europe's most admired natural settings. At certain locations this limestone canyon reaches depths of more than 700 metres where you can gaze down at the river and be captivated by its bright turquoise colour.
Located in the heart of the Alpilles Mountains just 20 kms from Arles, Les Baux-de- Provence sits high on a rocky plateau overlooking a peaceful valley. The ruins of the Château des Baux and its Citadel form part of the steep limestone cliff offering spectacular panoramic views over the landscape. Les Baux-de-Provence is listed as one of the Plus Beaux Villages de France (Most Beautiful Villages of France), being recognised for its delightful old stone buildings, squares and terraces full of fragrant flowers, charming cafés and art galleries.
Check out some of our popular City Breaks!