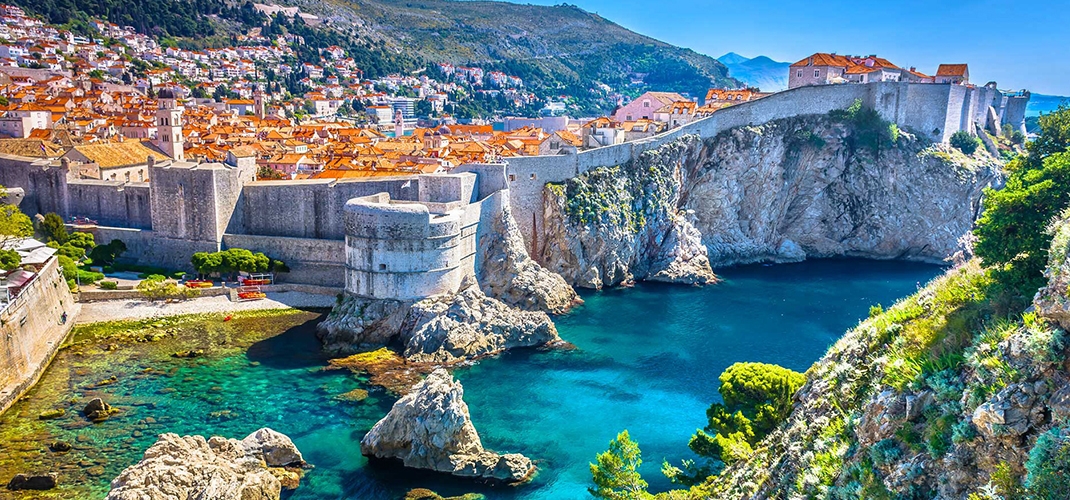 Famously known as the "Pearl of the Adriatic", Dubrovnik is one of the world's bucket list cities and UNESCO World Heritage Site since 1979. The most iconic site is definitely the ancient city walls when you think of Dubrovnik. A walk around them, will give you a spectacular view over the sparkling Adriatic Sea and the charming Old Town, with its terracotta rooftops.
Originally built in 1319, The Minčeta Fortress is the largest of Dubrovnik's protecting towers, dominating the city's landscape. It was originally built in 1319 and is located on the north side of the Old Town. Take your camera as you capture the sights below.
If you want a change in pace why not head outside the Old Town and travel on the Dubrovnik Cable Car for an incredible ride to the highest point of the city up to the top of Mount Srđ. From here you can enjoy the magnificent 360° views overlooking the Old Town.
The town of Cavtat is located on the Adriatic Coast just 15 minutes southeast of Dubrovnik. It's known for its beaches and the many ancient Illyrian Necropolises dotted around the area. Close to the tree-lined harbour is the Rector's Palace, a Renaissance mansion that displays the manuscript collection of 19th Century scientist Baltazar Bogišić. Here you will also see the Baroque St. Nicholas Church housing some notable artwork.
Lokrum is a beautiful place to come and discover with its olive, pine and cypress trees. Why not sightsee the 19th Century Botanical Gardens and visit the Benedictine Monastery ruins or climb to the top of Fort Royal for unbeatable panoramic views over the distinguishing coastline.
Croatia is also known for producing some delicious wines. While in Dubrovnik you will be able to find some local wineries scattered all around the broader area and definitely plenty of opportunities to sample the local white wines in the city as well. Dubrovnik will leave you wanting to return time and time again.
Check out some of our popular City Breaks!