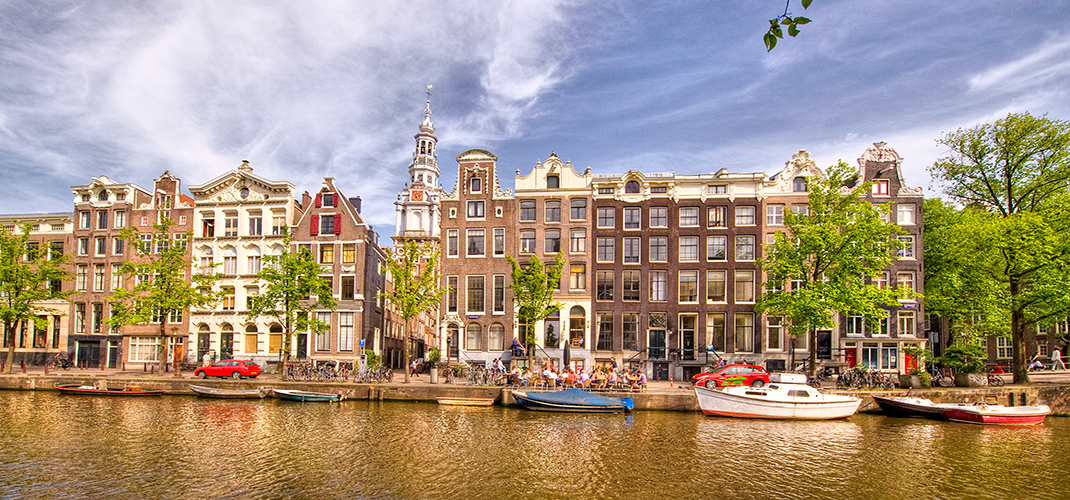 Dominating the cityscape in Amsterdam are its famous canals. The architecture of Amsterdam meanwhile is a real mixture of almost every style imaginable from the Renaissance era, Baroque, Neo-Gothic, Art Nouveau to Art Deco and beyond. These buildings sit happily alongside each other as if they were built at the same time.
Amsterdam is an extremely popular tourist destination, offering something to suit almost every taste. A visit to the Vincent van Gogh Museum is a must where you will discover a collection of 200 painting, 750 written documents and 500 drawings. His work has had a huge impact on 20th Century art. The Van Gogh Museum draws over 2 million visitors each year to see his masterpieces of the Sunflowers and the Potato Eaters.
The other must see museum is the Rijksmuseum which houses the largest collection of classical Dutch art, with masterpieces from the likes of Rembrandt and Vermeer, which are permanently on display.
Half the fun of Amsterdam is exploring its narrow cobbled streets with their small cafés and bars that seem to appear out of nowhere. The popular haunts of the Twee Zwaantjes and Wynand Fockink and the Jordaan area is worth getting lost in.
Vondelpark is Amsterdam's largest open space and a social, cultural hub of the city centre. It has holds music, sculpture, cinema and a great place for people to just gather and relax. The Begijnhof is also located in the city's heart and is home to some private 14th Century convent gardens. An unspoiled place to sit and relax away the hours after a busy day of sightseeing.
Check out some of our popular City Breaks!