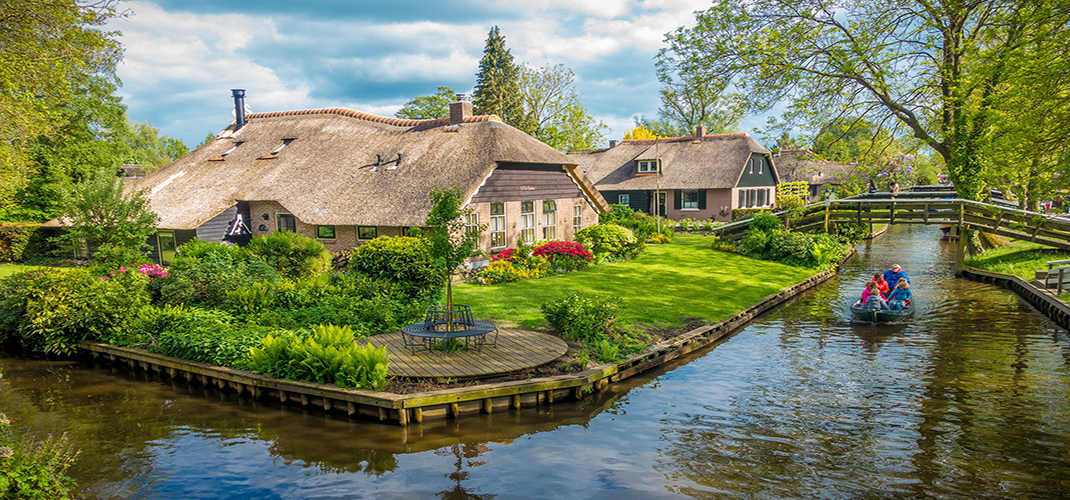 This small country of the Netherlands is situated between Belgium and Germany with the North Sea located to the North and West. It is one of the most densely populated countries in Europe with some 40% of the population living in the "Randstad" the area between Amsterdam, Rotterdam, Den Hague and Utrecht. The Dutch have a strong connection to the water and over centuries built a series of canals, dikes, dams to keep the sea and rivers back. They love their herring, called "Hollandse Nieuwe" (New Dutch herring) and eat it raw or on a bun as a snack with chopped onions and pickles and yes they also love their cheese.
The Netherlands is the ultimate destination for cycling thanks to its flat landscape and wonderful infrastructure. With more than 37,000 kilometres of bicycle paths waiting to be explored this is a great way to see the country.
Amsterdam has an amazing array of historic buildings, museums, cafes and a truly pleasant ambiance to explore. Go for a boat tour on the canals, stroll through Vondelpark or take in some of the city centres shopping highlights. Amsterdam is a unique city!
The Hague is the only big city with a beach directly on the North Sea Coast. It is a thoroughly modern city with many chic hotels, museums and high-end shopping. The Government is also placed here and run within the historic Binnenhof. The King's office palace can also be found on the Noordeinde. The city is also well known for its splendid beaches and the coastline offers many water sport facilities. All of this is all only just a twenty minute tram ride away from the centre of the city to the beaches of Scheveningen or Kijkduin. En route to the sea you will pass the iconic Madurodam (miniature village) showcasing the entire country in miniature.
Rotterdam is a city of many facades. It is a tough port city with a very trendy nightlife, a sophisticated shopping style and a hip artistic vibe. Rotterdam is the architecture city of the Netherlands, which tends to stimulate innovation.
This country also has some other hidden gems with their unique ambiance and charm, which include Utrecht an old university city built around the Dom Tom with beautiful canals and extraordinary wharf cellars housing cafés and terraces by the water, Alkmaar best known for its cheese market, Delft a charming canal ringed town with historical monuments and medieval architecture, Gouda world-famous for its cheese and syrup waffles, Haarlem with its attractive city centre, countless museums, shops, restaurants and the picturesque villages of Volendam and Marken where you can even dress up in the traditional Dutch costume. You will not be able to see everything in one trip and this country will bring you back time and time again.
Check out some of our popular City Breaks!