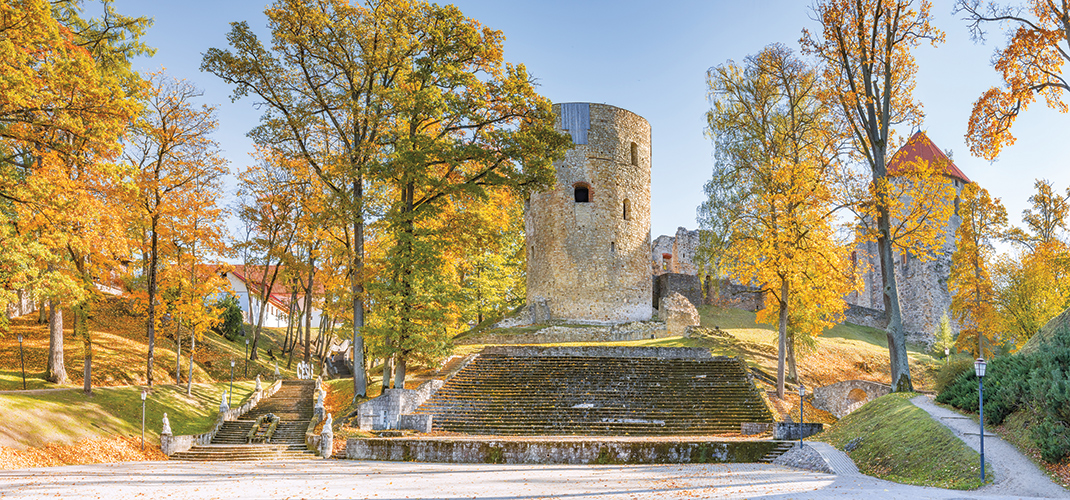 Latvia lies on the eastern shore of the Baltic Sea between Lithuania and Estonia. It is a country with a mix of 500 kms of beaches, sprawling forests and a rich cultural heritage. Half of the country is covered by forests making it one of Europe's greenest countries. The countries highest point is Gaizinkalns sitting at 312 metres above sea level. Latvia has 12,000 rivers and approximately 3,000 small lakes and most of its two million residents reside in the capital of Riga. With almost 20 hours of daylight in midsummer the locals make the most of it by partying outdoors and relaxing in nature.
Riga is known for its UNESCO World Heritage Sites including the Medieval Old Town centre with St. Peter's Church. It has over 800 Art Nouveau buildings and a vast Central Market. The city's museums include the Latvian Ethnographic Open-Air Museum, which showcases food, music and local crafts.
Latvia is a Wi-Fi paradise with one of the world's fastest internet connections and with over 800 free connection points just in Riga alone.
Latvian's love their beer even having a unique Beer Spa, where you can immerse yourself in a warm beer bath, while simultaneously quenching one's thirst on a cool glass of beer.
One of the attractions of the port city Liepaja is a night in jail. This former military prison in the town of Karosta is now a hostel. Guests can opt for the "full prisoner experience", which involves uniformed officers, less than luxurious digs, verbal abuse and organised physical exercise.
Latvian's like to forage looking for fantastic natural ingredients including birch sap juice, berries and mushrooms. Riga is an outstanding destination for a gourmet holiday. You will also find some great restaurants built in historic estates and beautiful areas outside of the capital.
Next time you put on that pair of jeans you can thank Latvian born tailor Jacob W. Davis (Jākobs Jufess) who immigrated to the US as a young man in 1854. In 1870, he was asked by a customer to make a strong pair of trousers for her woodcutter husband and his creation would become the template for modern denim jeans. Two years later, with the assistance from Levi Strauss, he patented the product.
To finish on a high note Latvia produces more female models per capita than almost any other country in the world.
Check out some of our popular City Breaks!